Bangladesh cancel tour of Pakistan because of safety concerns
Last updated on .From the section Cricket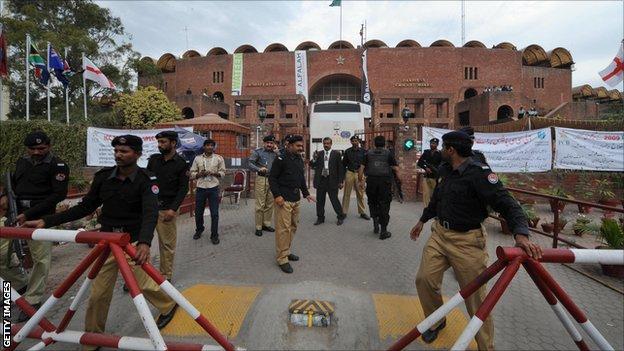 Bangladesh have called off their January tour of Pakistan because of security worries.
"Bangladesh will not visit Pakistan for now," confirmed Bangladesh Cricket board president Nazmul Hasan.
The Pakistan Cricket Board said it was "inappropriate" security concerns had been used as the main reason.
The PCB added it was yet to receive official confirmation from Bangladesh that the proposed tour has been cancelled.
"A lot of cricket-related activity has recently taken place in Pakistan successfully without any security issue whatsoever," a PCB spokesman said.
"[That] in itself reflects that the atmosphere in Pakistan is congenial for any international team visit to the country."
However, BCB president Nazmul argued the security situation in Pakistan had "deteriorated" recently.
"In this circumstance, we think it will not be very wise to tour," he said. "We have conveyed our decision to Pakistan already. We are observing the situation. If the situation improves we will keep our commitment."
Nazmul said it had been a very difficult decision for his board to make.
"We have made a commitment to travel to Pakistan. It was even in the minutes of an ICC meeting that we will go," he said.
"So it was almost mandatory for us. But we believe that the security of players and officials are the most important thing."
Bangladesh had also agreed to send a team to Pakistan in April 2012 to play a Twenty20 match and one-day international in Lahore.
However, the Dhaka High Court issued a restraining order stopping Bangladesh from playing in Pakistan due to security concerns.
The BCB president added that the team were ready to face possible repercussions from Pakistan, who are determined to bring international cricket back to the country.
"We are aware that Pakistan will not be happy with our decision. They might not send players to our domestic cricket and they might not co-operate with us in many other fields. We have to accept it," he said.