Glenn McGrath: Australia bowler to be inducted into Hall of Fame
Last updated on .From the section Cricket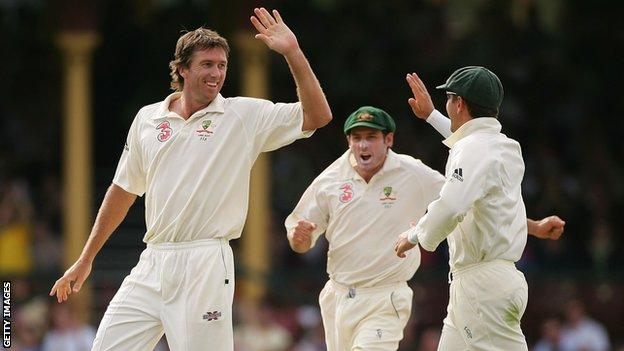 Record-breaking former Australia paceman Glenn McGrath is to be inducted into the International Cricket Council's Hall of Fame.
His success will be recognised during the opening day of Australia's third Test against Sri Lanka.
West Indies batsman Brian Lara and England all-rounder Enid Bakewell are the other inductees.
"I am very much looking forward to celebrating the occasion on 4 January with not only my friends and family, but all those at the SCG which is of course like a second home to me," McGrath said.
The right-arm bowler was a key member of the Australia side that dominated world cricket in the 1990s and 2000s.
He appeared in 124 Tests and 250 one-day internationals for his country and took a combined total of 944 wickets in 14 years before quitting the international game following Australia's third consecutive World Cup triumph.