Glenn McGrath: Australia bowler to be inducted into Hall of Fame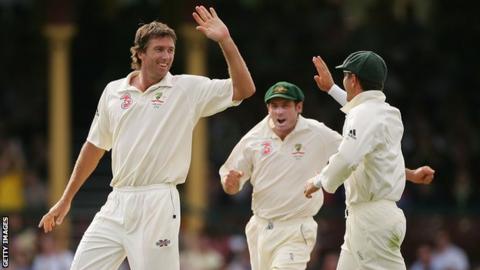 Record-breaking former Australia paceman Glenn McGrath is to be inducted into the International Cricket Council's Hall of Fame.
The 42-year-old took a Test high 563 wickets for a fast bowler in a landmark career before retiring in 2007.
His success will be recognised during the opening day of Australia's third Test against Sri Lanka.
West Indies batsman Brian Lara and England all-rounder Enid Bakewell are the other inductees.
"I am very much looking forward to celebrating the occasion on 4 January with not only my friends and family, but all those at the SCG which is of course like a second home to me," McGrath said.
The right-arm bowler was a key member of the Australia side that dominated world cricket in the 1990s and 2000s.
He appeared in 124 Tests and 250 one-day internationals for his country and took a combined total of 944 wickets in 14 years before quitting the international game following Australia's third consecutive World Cup triumph.