Laura Marsh column: 'Some disrespect but attitudes changing'

By Laura Marsh
England all-rounder
Last updated on .From the section Cricket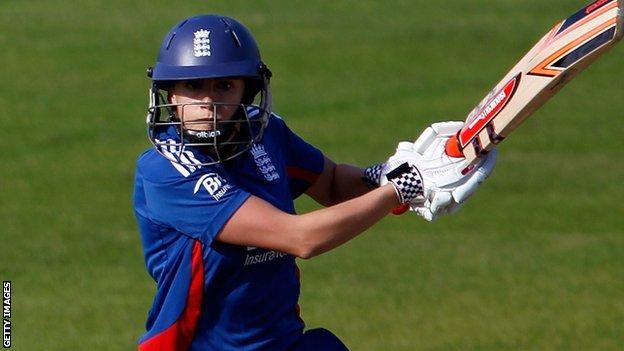 As a year, 2012 was unbelievable for women's sport as a whole but the England women's cricket team will look back on it as a mixed 12 months.
Of course, we have been used to success in recent years, but even now some people are still disrespectful towards us.
On the whole though, attitudes are changing and we are attracting more spectators who see we play a very good standard of cricket.
In the end that's all we can ask for - athletes should not be judged by gender but by the talent and ability on show.
I was lucky enough to go to the BBC Sports Personality of the Year show and was surrounded so many successful, talented female athletes.
Female sporting success hasn't always been in abundance in the UK, so to now have the likes of Jessica Ennis, Victoria Pendleton, Katherine Grainger and Sarah Storey acting as role models can only be a good thing.
Maybe next year Sports Personality of the Year will be celebrating the achievements of the England women's cricket team with us hopefully proud holders of both the World Cup and the Ashes.
This year, both away in New Zealand and at home against India, Pakistan and West Indies, we showed what good cricket we are capable of producing.
But the World Twenty20 in Sri Lanka was an opportunity missed.
We played brilliantly to get to the final, but we just didn't play well enough against our old enemies Australia. In the end, to lose by four runs was pretty gutting.
However, we can still take the positives, even in defeat. The experience of taking part in a major final will help us in the future, particularly with the World Cup in India now less than a month away.
All the girls in Sri Lanka felt the disappointment of coming so close to glory, and that will undoubtedly serve as extra motivation as we bid to defend the World Cup we won in 2009.
The preparations for a 50-over tournament are slightly different to that for the T20 but the fact we have had recent experience of playing in the subcontinent is a big benefit.
Having said that, the other teams in our group - India, West Indies and Sri Lanka - will be more used to the conditions, so we will have to start well.
From there, hopefully we can get to another final and, this time, make it count.
As well as the World Cup, 2013 will also see us bid to regain the Ashes from Australia. At the moment, it would be silly to look past the World Cup, but that's to take nothing away from how special that Test match against the Aussies in August will be.
With only one Test, it's all or nothing straight away, especially as we have to win because Australia are the holders. When the World Cup is done, we will sit down and give some serious thought to how we try and win back the Ashes, especially as Test cricket is so different to the limited overs game.
In lots of ways, it's a shame that matches against Australia are the only Test cricket we get to play in. I'm sure all the girls would like to play in more Tests, but we know that limited overs, especially T20, brings in more spectators, which is important for the growth of the game.