New eligibility rules strengthen Scotland pool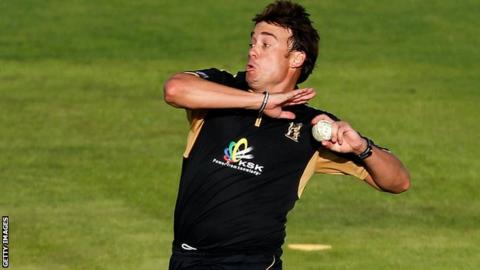 Six new players have been officially cleared to represent Scotland through a change in the rules on eligibility.
English county quartet Rob Taylor, Richard Coughtrie, Matthew Machan and David Murphy featured on an uncapped tour of South Africa in October.
And they are joined by experienced South African all-rounder Neil Carter and Yorkshire's Iain Wardlaw.
Carter, 37, gained a United Kingdom passport during his 10 years playing for Warwickshire.
"This confirmation goes someway to levelling the playing field in terms of eligibility," said Cricket Scotland performance director Andy Tennant.
"To this point Scotland has been at a disadvantage as the nations we compete against generally have the ability to grant nationality by issuing ancestral passports.
"This is something that Scotland isn't able to do, and as a result players who have the right to deem themselves Scottish through parentage have missed out on the opportunity to play for their country.
"The exceptional circumstances ruling by ICC definitely helps to redress the balance.
"In real terms however, the ruling merely helps brings cricket into line with most other sports where parentage and even grand-parentage is a long-accepted criterion for eligibility."
Following the boost, Tennant went on to reaffirm Cricket Scotland's commitment to developing indigenous talent.
"We will continue to work tirelessly to develop and improve our player development programmes and ensure that talented players raised in Scotland are given the best opportunity to fulfil their potential.
"In reality, having a wider talent pool to pick from will help raise the standard of players that we produce."