Cricket: Women could play in men's county game - Mark Lane
Last updated on .From the section Cricket86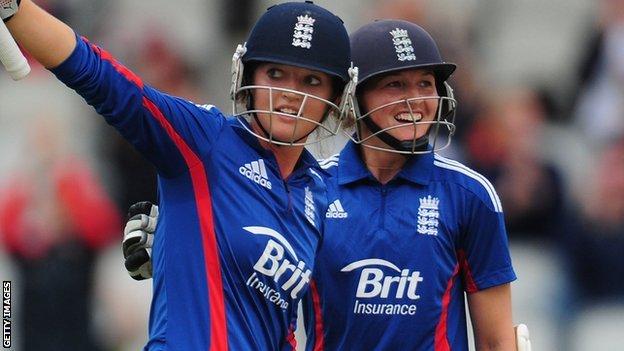 England women's cricket coach Mark Lane believes a female player will one day be part of a county's first team.
He also said "nothing was impossible" over whether a woman could play in the men's international game.
On Monday it was revealed England wicketkeeper
"We're always trying to test players and take them out of their comfort zone," Lane told the BBC's Test Match Special programme.
"Obviously their well-being is paramount but it is something that they can do."
Sussex have revealed that Taylor and spinner Holly Colvin have been invited to train with their second XI after the Women's World Cup. England's defence of the trophy they won in 2009 starts on 2 February against Sri Lanka at the Wankhede Stadium in Mumbai.
Wicketkeeper Taylor, 23, is considered one of the best players in the women's game, and is the top-ranked batter in the International Cricket Council's Twenty20 international rankings.
Left-arm spinner Colvin, also 23, made her debut against Australia in 2005 aged just 15 becoming the youngest person ever to play in a Test Match.
Asked whether a woman could play for a county's first team, Lane said "absolutely".
Responding to a question about women's potential future involvement in the men's international game, he added: "Nothing is impossible.
"I know the regulations say they can play second XI county cricket level and I think it would be fantastic to see."
Taylor appears to have a greater chance of making an appearance for the second XI at this stage as both Sussex's academy wicketkeepers are unavailable at the start of the season.
Sussex cricket manager Mark Robinson told BBC Sussex: "We have got a hole to fill.
"It has got to be right for Sarah's personal development. She would practice with the team so she could feel comfortable with the speed of the game and the people around her.
"It's important we don't create undue expectation because that would be unfair on Sarah. If all these boxes were ticked, there's no reason whatsoever why the likes of Sarah couldn't practice and then potentially play."