Too early to judge England - Alec Stewart

By Alec Stewart
BBC Test Match Special
Last updated on .From the section Cricket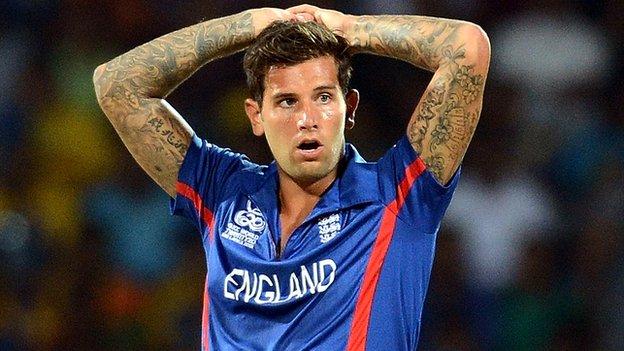 It was good to hear England captain Alastair Cook being so honest in his assessment when he admitted that his team were "outskilled and outplayed" by India in the second one-day international.
However, just as I don't like to go overboard in reaction to a victory, I don't see anything to be gained in overreacting to a defeat.
England were hammered in Kochi and in many ways the match was a mirror image of the first one-dayer in Rajkot where England were much more comprehensive winners than the nine-run margin suggests.
Both matches hinged on the last few overs of the first innings. In Rajkot, Samit Patel and Craig Kieswetter smashed 59 off the last four to take their total to an imposing 325. In Kochi, England were on the receiving end of a late assault as Mahendra Dhoni and Ravindra Jadeja struck 82 from the final six.
Their barrage catapulted India from a par total of around 240 to one of 285, setting England a target that was always going to be very difficult on a turning pitch.
In the event, England's fate was effectively sealed in the space of three balls when Bhuvneshwar Kumar removed Kevin Pietersen and Eoin Morgan.
Losing two of their best one-day batsmen in the same over immediately put them on the back foot and suddenly their less experienced players like Joe Root and Kieswetter were having to decide whether to stick or twist, while still aiming to maintain a decent run rate.
With the new fielding restrictions in place, there is an even greater need to keep wickets in hand because as has been proved runs can be scored very freely at the end of the innings, but you still have to make sure that the run rate remains manageable up to the 40th over or so.
As it turned out, India's spinners proved too good and England were well beaten in the end.
Kieswetter has come in for criticism in the past for relying too heavily on boundaries for his runs. Yesterday was no exception but he was not the only player struggling to manoeuvre the ball around against the spinners.
Several of the England batsmen need to continue to work on how to rotate the strike by finding the gaps and making sure even a defensive shot gets you a single.
With Matt Prior still out of favour in the limited-overs format, Kieswetter has been given the opportunity to nail down his place. He is trying to improve all the time and it was only one game ago that he was being praised for his performance alongside Patel at the end of the England innings.
The same applies to Jade Dernbach, who I believe is developing as an international cricketer and gaining experience all the time.
He learnt the hard way in Kochi that if you don't quite get it right at the highest level you get punished, but again he should not be judged solely on the basis of his 2-73 from nine overs. His last over went for twenty and ruined what was, until then, a decent performance.
It should not be overlooked that Dernbach bowls the majority of his overs during the powerplays and at the death, which inevitably means he is going to go for more runs than somebody who only bowls when the powerplay is not in place. He has been relatively expensive but has still picked up four important wickets across the two games.
Too many people see things purely in black and white. but there has to be grey areas, with circumstances and conditions taken into account. Statistics don't always tell the whole truth.
That is why coaches, captains and selectors are entrusted with making the right decisions over team plans and selections, instead of impulsively dropping someone off the back of one bad game.
I'm certainly not here to make excuses for England; I am just trying to add a bit of perspective and knowledge on how things work at the highest level.
England arrived for this series as major underdogs after winning only one of their last 18 matches in India. They played very well in the first game but were outplayed in the second and the contest will now be decided over three games. Only at the end of the series will we truly be able to assess whether this team is making progress.