Shane Warne faces Melbourne Stars Big Bash ban
Last updated on .From the section Cricket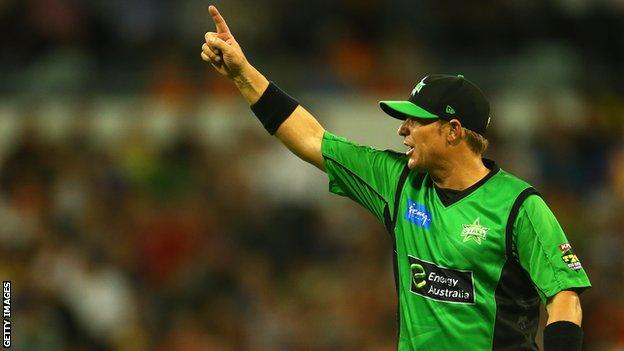 Shane Warne faces a ban for not naming himself captain for Melbourne Stars' Big Bash League defeat in Perth.
James Faulkner was listed as skipper for Tuesday's semi-final in a move aimed at ensuring Warne did not receive a suspension for slow over rates.
Warne, 43, was returning from a one-game ban for his altercation with Marlon Samuels.
A statement read: "Shane Warne has been reported for breaching Cricket Australia's code of behaviour."
Warne had already been warned about his side bowling their overs too slowly in an earlier game.
A repeat would have incurred a one match ban, ruling the spinner out of the final if Melbourne had been victorious over the Perth Scorchers.
Cricket Australia's statement said: "Warne is alleged to have breached Rule 5: Laws of Cricket and Spirit of the Game.
"On 5 December 2012, KFC T20 Big Bash League teams were sent a memo by Cricket Australia.
"Under the heading 'Over Rates', the memo stated that 'If a team's official captain is selected but not named as captain, this will be considered against the spirit of cricket and may attract a code of behaviour charge'.
"For tonight's match, James Faulkner was listed on the Melbourne Stars team sheet as captain and took part in the coin toss with Perth Scorchers captain Simon Katich.
"Warne had previously been issued with one strike for a slow over rate violation, with a second strike this season resulting in an automatic one-match suspension."
The legendary bowler returned to competitive cricket in Australia for the first time when the newly-franchised Big Bash League was launched last year.