India v England: Mahendra Dhoni returns to Ranchi
By Tim Peach
BBC Radio producer in India
Last updated on .From the section Cricket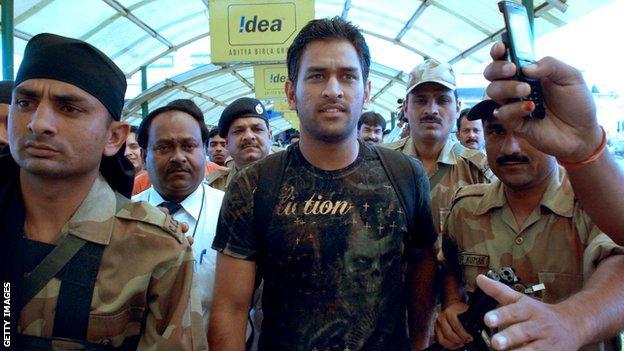 As Mahendra Dhoni led his Indian team off the plane into the shining new terminal of the airport in his home town of Ranchi, he was mobbed by a passionate crowd of people trying to give him flowers and garlands, asking him for autographs, or even just reaching to try and touch the Indian captain.
As Ranchi prepares for its first ever international match at the impressive HEC International Stadium, large billboards of Dhoni's smiling face beam down over the traffic chaos beneath on the streets where he grew up. Local news channels run footage of him and his team-mates emerging from a scrum of well-wishers at the airport, with reporters live outside the team hotel.
Dhoni returns home at an interesting time in his career. In the wake of the 2-1 home Test series defeat to England, and the subsequent 2-1 one-day loss to arch rivals Pakistan, there have been calls for the 31-year old to step down as captain, at least in one format of the game or another. There has been criticism of his captaincy, and criticism of his approach to Test cricket, particularly after the 4-0 whitewash tours to England and Australia.
Yet, at the same time, he is, as Simon Hughes said on Test Match Special during India's win over England on Tuesday, "the best one-day player in the world over the last two years". In his last five ODIs, he averages over 102. His 72 at Kochi was enough to help India level the series; in England's victory at Rajkot, his 32 off 25 balls, including four sixes, nearly saved the game.
It was Dhoni who was captain when India became the best Test team in the world. It was Dhoni who was captain when India won the World Twenty20 in 2007. And it was Dhoni who won the World Cup for India with a towering six at the Wankhede Stadium in Mumbai, 2011, capping off a man-of-the-match performance.
And yet all this could have been very different if it hadn't been for Keshab Banerjee. Mr Banerjee is the PE teacher at the Jawahar Vidya Mandir School in Ranchi, and recalls the young Mahendra as a 13-year old football goalkeeper. "I needed a wicketkeeper for my school team, so one day, I asked him 'as you are a very good goalkeeper, can you keep wicket?'". Nineteen years on, Indians have plenty to thank Banerjee for.
The young Dhoni attended a school that takes sport very seriously. As his former teachers reminisce about their most famous alumnus, an inter-house tug-of-war goes on between two groups of girls. School facilities include cricket, football, badminton, hockey and basketball.
But it was always sport that interested him. According to his headmaster, DR Singh, "You can't say he was top in his studies, because he was inclined towards sports, but the best thing that is required for sports is discipline. He was a highly-disciplined guy. He never gave us any reason to scold him, never"
Maths was his weak point. "He was afraid of numbers", says Singh. "He was not good in calculation, but he is very good in calculating the amount of money that he earns now!". He's not wrong. It's said that Dhoni is the highest individual tax payer in his home state of Jharkhand. Forbes magazine estimate his earnings at $26.5m, ahead of Wayne Rooney, Usain Bolt and Novak Djokovic. His estimated earnings from endorsements top those of even Lionel Messi.
While it had previously been unthinkable that anyone could eclipse India's cricketing idol Sachin Tendulkar, Dhoni now earns more than his team-mate, and can charge more for appearances.
Dhoni's progression from school to national team was helped hugely off the back of one innings. In the final of an under 16 tournament, Dhoni opened the batting for his school in a 40-over match. He finished with an unbeaten double century, including 16 sixes. It was the match that was to lead to his progression into state, India Under-19 teams, and ultimately the national team.
Though Banerjee does not take any credit for Dhoni's signature 'helicopter shot', seen once again during the win over England on Tuesday; "It was his own improvisation"
As for Saturday's match, Headmaster Singh says this is the biggest thing that has happened in Ranchi. And while there are calls for the removal of Dhoni as captain, he would perhaps be reassured to learn that he still at least has the backing of his former PE teacher.