India v England: Ashley Giles calls for 'strong minds'
Last updated on .From the section Cricket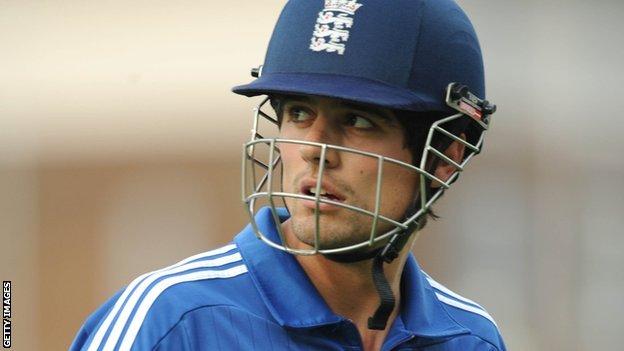 Limited-overs coach Ashley Giles says England must be "strong-minded" to recover in the one-day series in India.
"Winning a one-day series in India is very, very hard," Giles told BBC Sport.
"It's a mix of high skill levels and being clear mentally, strong minded. With the noise and pressure it's about how you control your emotions."
England amassed 325-4 to win the series opener in Rajkot but have since been bowled out for 158 and 155 to lose by 127 runs and seven wickets respectively.
In the third match in Ranchi, England were 68-1 before losing their last nine wickets for 87 runs, including three wickets for one run in eight deliveries.
"We need to learn the lessons of the last two games," continued Giles, who is in his first series in charge of the limited-overs side after being appointed in November.
"We've got some very good players in this side but, as individuals, they need to stand up and make a difference.
"You need to be able to consolidate in situations. It's not possible for anyone, even the Indians, just to go in from ball one and bash it around.
"If there is pressure, we have to soak it up. If ever you lose three wickets, in any game of cricket, it's going to cost you."
Giles also confirmed that pace bowler Stuart Broad will not join the squad for the final two matches after his flight from England was cancelled.
Broad was not scheduled to play in India as he recovers from a heel injury. He will now return to the England fold for the tour of New Zealand, where he will captain the side in three Twenty20 internationals, beginning on 9 February.
"He got snowed in," explained Giles. "It would have been great for him to be here because he needs to get outside and start training.
"I was looking forward to catching up with him as captain on the T20 side.
"We've got a fair amount of preparation time in New Zealand so hopefully there will be enough for him to get right."