Graeme Swann 'needed' break from England duty
Last updated on .From the section Cricket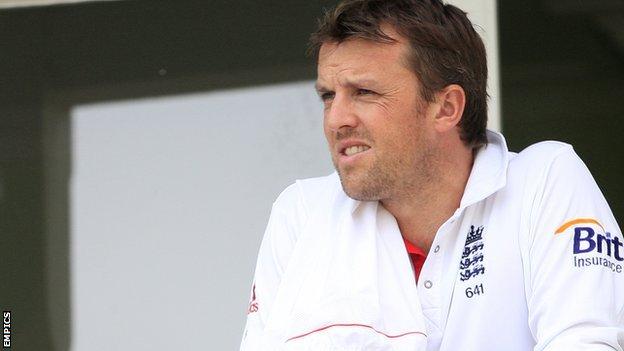 Graeme Swann has admitted he needed his current break from England duty.
The 33-year-old spinner returned home after the Test series win in India and has been watching the ongoing one-day series from his Nottinghamshire home.
"I did need a rest after the exploits of the winter," Swann told BBC East Midlands Today.
"A lot of people are against having a rest and having family time, but it prolongs your career. If you are my age, it really makes a difference."
Swann played a leading part in England's first series victory in India for 27 years by taking 20 wickets, but did not return to the sub-continent with the touring group after Christmas and New Year.
And although he has found it strange to be at home when England are playing, it has given him a chance to recharge his batteries before linking up with the squad again for the forthcoming tour of New Zealand, the first time Swann will have played against the Kiwis in Tests.
"I do miss it," he said. "It's tricky being at home because you lose track of time and when the games are going on.
"I have two young children and they take up a lot of my time. You end up flicking the television on and there's a game there and it's strange you are not involved in it.
"But I'm very grateful I was given a chance to miss a few games."
Swann, who was talking a snowy Trent Bridge, also has the summer's Ashes series against Australia on his mind.
"For an Englishman, it's huge," said Swann, who has been awarded a testimonial by Nottinghamshire this year.
"We have had some amazing Tests against the Indians and South Africa, but nothing quite matches the Ashes.
"And for Nottingham to host a Test match - and the opening Test match of this series - is fantastic and I cannot wait to play in it.
"We get such a good crowd here filling the ground every day. The atmosphere is always electric.
"When you are on the field there is no love lost and it is absolute carnage out there. It's brilliant to play in and I can't describe it any other way than that.
"I have been really lucky to play in a couple of (Ashes) series so far and, as long as I stay in good shape, I'll be able to play in another one this summer."
Swann is convinced the much-publicised off-field problems which affected the England squad in the middle of last year are very much in the past.
"We had our problems last summer but that has all been dusted over now," he said.
"In India, for the Test series, the camaraderie and team spirit was as good as I have known in a sports team. We will need that again this summer and I am sure we will have it.
"That win was very special. Of all the things you want to tick off on your list of playing cricket, winning in India was definitely one of them."