Jersey aim to make global Twenty20 qualifiers
By Brent Pilnick
BBC South West Sport
Last updated on .From the section Cricket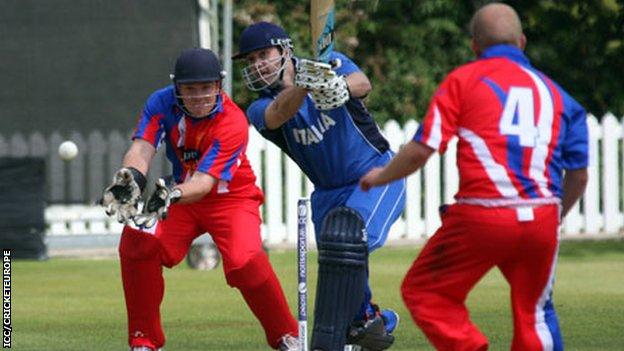 Jersey's cricket team are aiming to progress to the global qualifying stages of the Twenty20 World Cup.
The island side head to Sussex in July for the European Division One tournament, an event narrowly missing out on the next round.
"We have to aim for the global qualifiers," Jersey Cricket Board chief executive Chris Minty said.
"We'll take it one step at a time and hope to qualify for this one first."
The top two sides from the tournament will go on to the global qualifier in the United Arab Emirates in October, with the best teams moving on to the 2014 Twenty20 World Cup in Bangladesh.
The event, which runs from 7-14 July, will see Jersey face the likes of oldest rivals Guernsey and 2011 qualifiers Denmark and Italy, who
The tournament ends just a week before Jersey hosts Division Six of the World Cricket League.
And Minty told BBC South West Sport success in both tournaments will lead to more funding for the island side.
"If we climb up the World Cricket League we receive more money from the ICC," he added.
"But if we qualify for the next Twenty20 tournament we'll get money to help us fund the next round."