England batting coach Graham Gooch relinquishes one-day role
Last updated on .From the section Cricket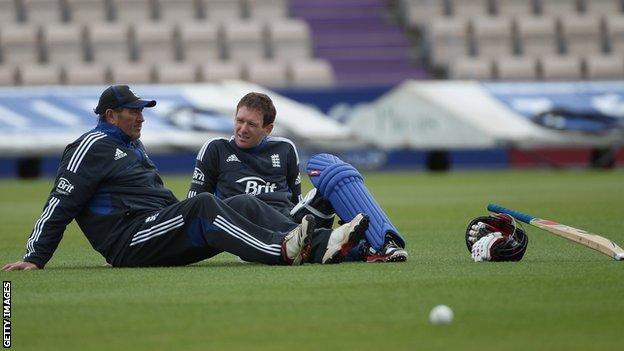 England batting coach Graham Gooch is relinquishing his one-day duties to focus on the Test side.
Graham Thorpe will take over as batting coach of the one-day team for the forthcoming New Zealand tour.
It comes after Ashley Giles took control of the one-day and Twenty20 squads from team director Andy Flower.
"Graham Gooch is going to focus now on Test cricket," said England and Wales Cricket Board (ECB) managing director Hugh Morris.
Morris added: "We would like to focus on that area of the game. We've got back-to-back Ashes series coming up and a five-Test series against India in 2014.
"That's an enormous amount of very high-profile Test cricket and Graham will be focusing his attention on working one on one with our Test players."
The new rotation approach has been adopted to bring more balance to the coaches' workloads, especially with a growing international cricket programme.
A similar tactic has been adopted with frontline players - James Anderson, Graeme Swann and Jonathan Trott have not been involved in the current ODI series, for example.
Morris said Thorpe was ready to step into the role vacated by Gooch: "Graham Thorpe, who has been working with the performances programme and the Lions, will be going as the one-day coach to New Zealand.
"(Thorpe's role) is for this tour initially and then we'll assess the situation at the end of that.
"We're very fortunate to have two (batting coaches) who've played 100 Test matches for England.
"Graham Thorpe is a very experienced one-day cricketer and Graham will have worked with a lot of the players who are going to New Zealand.
"He's made a really good impression as a batting coach and he's really looking forward to it."