Shane Warne says Cricket Australia damaging Ashes hopes
Last updated on .From the section Cricket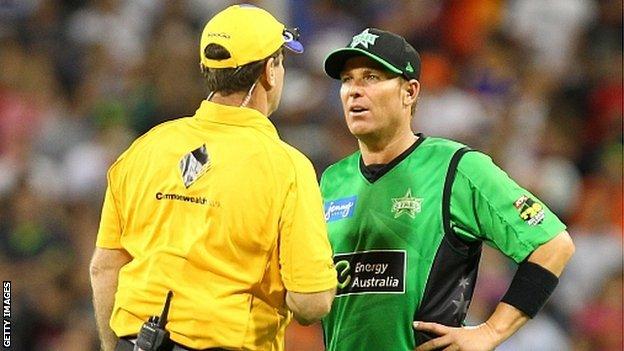 Shane Warne has delivered a scathing attack on Cricket Australia, claiming their rotation policy is damaging the team's chances of regaining the Ashes.
In a blog, the legendary leg-spinner urged selectors to pick the same team in all three forms of the game.
"Rotation and resting players will never work," Warne wrote.
"The next 12 months is the biggest for the Australian cricket team in a long, long time. If we do nothing now, we will be where we were 30 years ago."
Warne, who starred in the all-conquering Australia side of the 1990s and early 2000s, is dismayed by the current team's slide to third in the Test and one-day rankings and seventh in the Twenty20 table ahead of back-to-back Ashes series against England this year.
He lays the blame for the slump firmly at the door of administrators and their strategy of resting players for certain matches and series.
"The current set-up is not working, as the results are showing," said Warne, whose tally of 708 Test wickets is second only to Sri Lanka's Muttiah Muralitharan.
"A simple criteria is pick your best team and stick with it in all forms. Chopping and changing leads to insecurity. Players then start to look out for themselves and over their shoulder, this breeds selfishness."
Warne had a troubled relationship with Cricket Australia during his international career and was fined twice earlier this month for transgressions committed while playing for Melbourne Stars in the Big Bash League.
In the blog - entitled "Where is Australian cricket at? Part 1" - he went on to pick his "dream team" for the administration of Australian cricket, including former wicket-keeper Rodney Marsh as chairman of selectors and ex-New Zealand captain Stephen Fleming as coach.
He concluded by calling for those running the game to "go back to basics".
"Cricket is a simple game," said Warne. "Sure it has room and a place for scientific research and current technology, which can help learn about an opponent, but not instead of using your cricket brain, together they can work hand-in-hand.
"Technology can help in recovery, but so can sleep and a common sense approach to recovery. It's time to go back to basics. Too many people are justifying their existence."