India launch Cricket Women's World Cup in Mumbai
Last updated on .From the section Cricket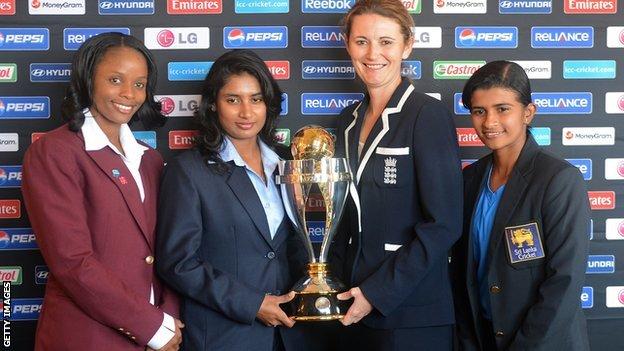 Hosts India face West Indies at Mumbai's Brabourne Stadium on Thursday in the opening game of the ICC Women's Cricket World Cup.
The other six teams play their opening games on Friday - with defending champions England taking on Sri Lanka.
England beat New Zealand by four wickets in the 2009 final in Sydney.
While the 50-over tournament mostly takes place at three Mumbai grounds, some games - including all Pakistan's - were moved to Cuttack last week.
The late venue switch took place following political protests in Mumbai about Pakistan's involvement, but India skipper and key batter Mithali Raj was disappointed that it was forced by non-cricketing issues.
"I personally feel that politics should not be involved in sport," said Raj.
"Sport is more about entertainment and a fun-loving atmosphere. So we should not be getting too many political issues into it."
But while India's top male cricketers are idolised by the country's millions of devoted fans, the same cannot be said of its female players.
"Indian society is still is not forthcoming when it comes to women's cricket," added Raj.
"Parents are still more interested in putting their girls into more feminine sports like tennis or table tennis."
The eight competing teams are divided into two groups of four - with India and the Windies joined by England and Sri Lanka, while Group B contains Australia, New Zealand, Pakistan and South Africa.
The top three teams in each group qualify for the Super Six stage, with the top two Super Six teams contesting the final on 17 February.
For some teams, it will be the first one-day internationals they have played since the recent regulation changes introduced by the International Cricket Council.
Pakistan skipper Sana Mir said: "We have not played under the new rules where five players have to be inside the circle at all times and new balls are used from both ends.
"We must get used to them before the tournament starts."
Meanwhile, England captain Charlotte Edwards, preparing for her fifth World Cup, admitted: "I think it is safe to say that the women's game today is unrecognisable from when I started in 1997.
"We are attracting loads of young girls who want to play the game.
"We have changed people's perceptions about women's cricket a lot, and hopefully this tournament will be another step in hammering that message home."