Women's Cricket World Cup: Pakistan team sleeping at stadium
By Stephan Shemilt
BBC Sport in Mumbai
Last updated on .From the section Cricket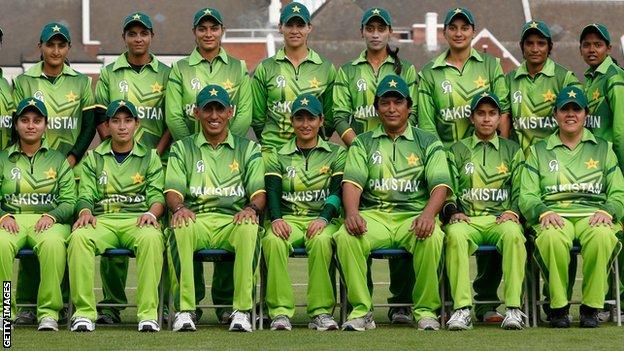 Pakistan have been told it is not safe for them to stay at a hotel during the Women's Cricket World Cup in India.
Instead the players will be living at a stadium where police say they can provide greater security.
The tournament started on Thursday with the hosts facing the West Indies.
"The ICC takes into consideration the safety of all teams at the event and it was felt the stadium was the best option for the team," an International Cricket Council spokesperson said.
The entire tournament was due to take place in Mumbai, but the eastern city of Cuttack was introduced as a second venue after protests against Pakistan's involvement.
Pakistan have been put up at the Barabati Stadium in Cuttack, which has an academy with hotel-style facilities.
"Pakistan are delighted with the facilities," the ICC spokesman said.
Long-standing political tensions between India and Pakistan ensured bilateral series between the men's teams were only resumed in December after a five-year gap.
Earlier this month, questions over the safety of the Pakistan team in Mumbai were raised again when a right-wing political group protested against the presence of four Pakistani hockey players in the Mumbai Magicians' squad.
Amid this backdrop, Cuttack was suggested as an alternative host city for the cricket by the Board of Control for Cricket in India.
Team manager Ayesha Ashar told The Times Of India: "The arrangements are more like we get in Pakistan. We are happy with the facilities provided to us by the organisers."
The shift of the entire programme of Group B fixtures - involving Pakistan, Australia, New Zealand and South Africa - to Cuttack, was only confirmed on 25 January, six days before the tournament began.
Some Super Six games - including one of England's scheduled fixtures - will now also take place in Cuttack.
On announcing the schedule change, ICC chief executive Dave Richardson said it was a "difficult situation, which was not of cricket's making".
The World Cup final is still set to take place at Mumbai's Brabourne Stadium on 17 February, even if Pakistan are involved.