Laura Marsh column: England focused on success in India

By Laura Marsh
England all-rounder
Last updated on .From the section Cricket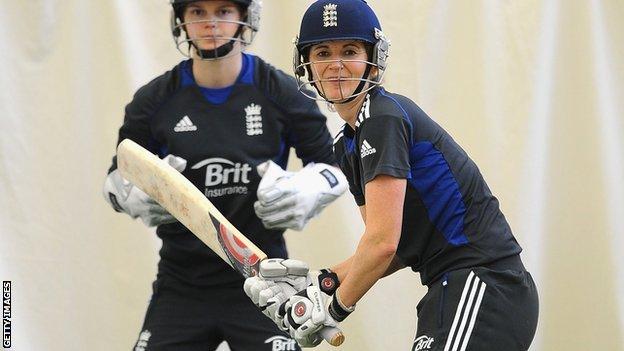 The World Cup only comes around every four years and, now it's arrived, we're all very excited.
We have been in India for about two weeks - preparing at a training camp in Pune before moving to our base in Mumbai. Before we came here everyone was training hard but scattered across the UK so it was fantastic to get back together as a team.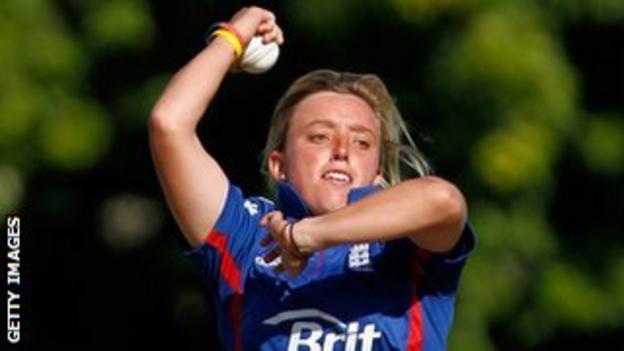 The eight days in Pune involved lots of nets, middle practice and fielding drills. We had some brilliant net bowlers who were happy to bowl at us all day, giving us valuable practice on the slow, turning Indian wickets.
After that, two warm-up matches back in Mumbai gave us the first chance to play together as a team since the World Twenty20 in October.
The win against South Africa was followed by a narrow defeat by New Zealand - despite Danielle Hazell taking 5-41 - but that loss is not concerning because, as a team, you want to improve as a tournament progresses.
Captain Charlotte Edwards is in great form with the bat and showed that against South Africa with a solid 78, while we have also seen some decent contributions from Lydia Greenway and Heather Knight.
Admittedly, there was a little bit of rustiness, but that's to be expected as we've come out to play in our off-season, so there are areas to improve on. Ultimately, though, the World Cup begins for us against Sri Lanka on Friday and I am very confident we will put on a good show.
India and West Indies are also in our group, then, hopefully we will progress to the Super Six stage where Australia and New Zealand are likely to be among the teams that await.
All of these sides have the ability to win the World Cup, so I think much will depend on who deals best with the conditions and who is able to execute their plans in the pressure situations a tournament throws up.
Those conditions I speak of make India renowned for being a tough place to play cricket, but it's also a fantastic country to tour.
Of course, it's hectic, so different from back home. If you think the traffic in London is bad, it's nothing compared to Mumbai.
The bus journey to Pune we were told would take two hours but actually took five, with the crazy driving of the man behind the wheel drawing screams from the girls at various points during the journey.
I hid away at the back, so I could not see too much of what was going on, but I could feel the bus shaking as we climbed some pretty steep mountains. It was interesting to say the least, but we survived.
As well as traffic chaos, you get used to some pretty random sights, like cows wandering across the road. There is always something different happening here, so that keeps you on your toes.
It is, though, slightly harder to get around in India than some other countries we might tour, so it is important we have other ways to keep ourselves entertained.
All of the girls are different. Danielle Hazell has a games console with her, while I'm quite into the TV shows Homeland and Dexter, so Heather Knight and I have been having some nights in with a DVD.
None of this, though, is a distraction from what we came here to do, which is defend the World Cup that we won in 2009. The waiting is almost over.