Cricket World Cup: The changing attitude to India's women's team
By Stephan Shemilt
BBC Sport in Mumbai
Last updated on .From the section Cricket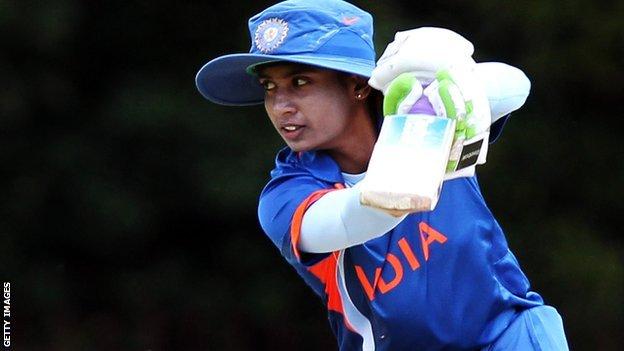 Think India, think cricket.
Each day in Mumbai every grassy space is occupied by some sort of cricketing contest. Men's cricket, that is.
However, from India women's captain Mithali Raj to children of the slums of Mumbai, there is hope that the country's attitude to the sport is changing.
While in many ways India has become the game's modern home, it faced accusations of being behind the times during the scheduling controversy that marred the run-up to the Women's World Cup.
Yes, political pressures made it necessary for Pakistan's games to be moved from Mumbai, but the decision to evict the women from the city's biggest stadium, the Wankhede, to accommodate the men's Ranji Trophy final, left a sour taste.
Furthermore, not one of those games that take place in Mumbai's parks appear to involve any women. England are assigned some local youngsters to bowl at their net sessions, but a girl is yet to be spotted.
So, when England trio Holly Colvin, Danielle Wyatt and Tammy Beaumont gave a coaching session to some Mumbai schoolchildren, it came as a surprise that the group who arrived at the Cricket Club of India (CCI) was made up entirely of girls.
That, though, was only part of the story. Helped by Room To Read - an international charity focussing on literacy and gender equality in education - these girls had come from the slums of Mumbai.
"For them, this opportunity is like touching the heavens," said Room To Read's Neelima Naik. "When they knew England were coming here, they practised for three days.
"They said 'we are having England players play with us, they shouldn't feel we are not good enough'.
"They look at the likes of India captain Mithali Raj as a role model and are dreaming of being like her. The entry to CCI could be the first step."
However, despite the enthusiasm of an inspirational figure such as Neelima, one cannot help but wonder that, even if these girls possess the talent, Indian attitudes to women and women in sport would hold them back.
As the World Cup began, former India captain Diana Edulji described the Board of Control for Cricket in India's approach to women as an "insult".
She explained the fee for woman playing in a domestic one-day match was 2,500 Rupees (£30) and only 1,250 Rupees (£15) for a Twenty20.
"It's well known that boys still get more opportunities and support in both sport and education. The culture of India is male dominated," said Neelima.
"It's still a big thing for a girl child to be allowed to go to school. She could instead be cleaning the home, looking after a sibling or earning money.
"But I am seeing a little change of attitude. There are growing opportunities and even the government is trying to support girls' development. The mental make-up is still that the girl has to do housework, but that is changing."
When the group of a dozen or so girls have finished their lesson in cover drives and dancing Gangnam Style from Colvin, Wyatt and Beaumont, two are introduced through Neelima's interpreting.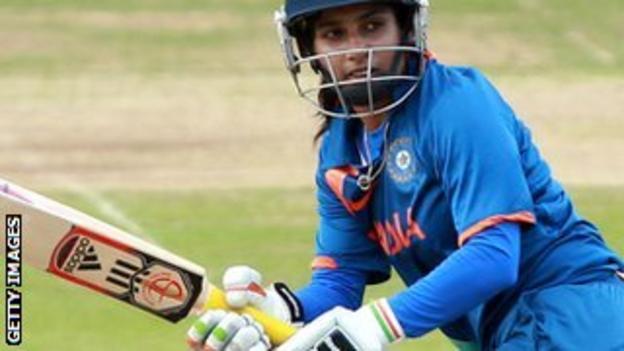 Fifteen-year-old Radha explains that her parents are vegetable vendors. Leena, who is 14, says that her parents are domestic servants. Both are incredibly excited to be asked to speak, but their manners are impeccable.
"Very rarely do we get the chance for cricket because mum feels we should not play," says Radha. When asked about who their hero is, the response is predictable. "Sachin Tendulkar," is proclaimed through wide smiles. What about Raj? "Yes, Mithali," but the answer is not quite as convincing.
Later that afternoon, media gather to put questions to Raj, the undoubted face of women's cricket in India. The second surprise of the day is that at this press conference there are more female journalists than male.
The journalists explain that the Women's World Cup would not really register in India if it was not the host - there is little around Mumbai promoting the tournament, but TV adverts featuring men's spinner Ravichandran Ashwin urge the nation to get behind Raj's team.
They do, however, point out the ramped-up coverage in the newspapers. Broadsheets The Times of India and The Hindu both have half-page spreads devoted to the World Cup, complete with pictures of Raj and team-mate Thirush Kamini. It's unheard of.
"It's a big event, the World Cup attracts a lot of people and media coverage," says Raj.
"People always come up to me to ask about who we are playing and when so that they can follow the performances of the team.
"If matches are televised on a regular basis I'm sure women's cricket in India will catch up."
It's a vision that Neelima shares.
"I hope that one day women cricketers in India are greeted and welcomed everywhere they go," she said. "That we have women's cricket on television and people stay at home to watch.
"That is the dream for all of us."