Laura Marsh: England confident ahead of Super Sixes

By Laura Marsh
England all-rounder
Last updated on .From the section Cricket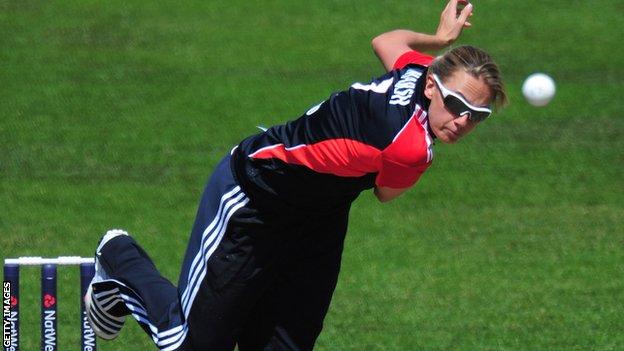 The group stage of the Women's World Cup is over and we are through to the Super Six stage. We bounced back well against India and the West Indies after a disappointing start with the defeat by Sri Lanka.
We can admit that we did not start the tournament as well as we wanted. There were errors in that game which let us down, but that is not to do a disservice to the Sri Lanka team, who have improved so much since the last time we played them.
I didn't enjoy having to sit out and watch during the first game. It's always better to be out on the pitch. In that sense, it was great to get back out there for the wins against India and West Indies.
We knew we had to pull our socks up because they were must-win games and the way we responded was brilliant. Now we have quite a lot of momentum for the Super Sixes, which start on Friday when we play Australia.
In a lot of ways, the match against India was one of the best one-day internationals I've played in. The standard of cricket was incredibly high and, even though we managed to post 272, we didn't feel we had the game won until the latter overs.
But it wasn't just what was happening on the pitch that made it a special occasion, the Mumbai people came out to support the host nation and created a raucous atmosphere inside the Brabourne Stadium. For that reason, it's a real shame that India have gone out of the tournament.
India's exit is a real shock but, beyond that, it's an opportunity missed for the development of the women's game in this country. With India out of the tournament crowds may dwindle. I really hope that isn't the case.
On the flipside, though, Sri Lanka beating India shows that our defeat wasn't a one-off. They have shown themselves to be an exciting team, who play their cricket with smiles on their faces. They may well prove to be tough opposition in the Super Sixes.
In all the games we've played, we've had great support from our families, who travel all over the world to watch us play. My parents have barely missed a tour that I've been on and I'm very fortunate to have such incredible support. Also, for the team, it's great that whenever we take the field there is a corner of the ground with England flags and a group of people that really care about our success.
The travelling band of fans doesn't only include parents - Arran Brindle's son Harry is with us and always wanting to play corridor cricket. The other day he was loving playing the 'Dilscoop' to Katherine Brunt, who was, as usual, on the hunt for wickets.
There's also Julian, the London cabbie who follows us. He first watched a World Cup more than 10 years ago and is as good a supporter as we've had.
The Super Six stage sees us play the teams from Group B, who have been based in Cuttack away from the television cameras. Because of that, we haven't seen for ourselves how everyone is playing but, looking at the results, Australia seem to have been dominant.
The Aussies are a very good side and their stand-out performers Jess Cameron and Meg Lanning have been in good form. We also know plenty about New Zealand who look to have been going well.
The Super Six stage can be a little complex. It's only natural to think about what set of circumstances would see us qualify for the final.
But, put simply, if we win every game, we will be there. Our mentality is to win the three games that lie ahead.