Guernsey boss Nic Pothas slams under-performing cricketers
Last updated on .From the section Cricket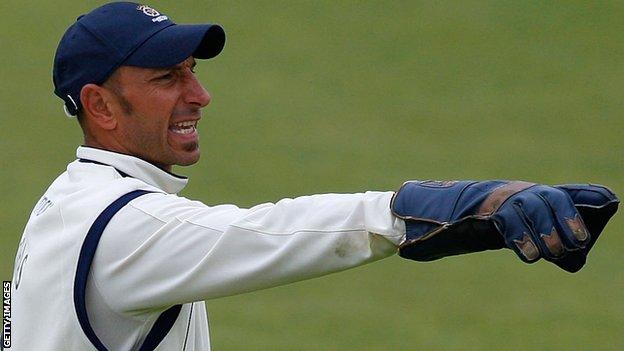 Guernsey's director of cricket Nic Pothas says the island will no longer pick players on their reputation.
The former Hampshire wicketkeeper and says too many so-called 'name' players have failed to perform well enough for the island.
"In the past there've been a lot of 'name' players who have got picked in squads," Pothas told BBC Guernsey.
"I've looked back over the statistics for the past couple of years and those 'name' players haven't performed."
He continued: "So it's going to come down to the basic currency of runs, catches and wickets and the people who are performing will get picked."
Pothas says the island's cricketers are in a 'comfort zone' and must start to challenge themselves if they are to progress on the world stage.
The island side is in Division Five of the World Cricket league having last year.
"I've got to be careful of allowing people to stay in the comfort zones they've been in.
"I'll be challenging people to get out of those zones and see what they can actually achieve because they're a lot better than they think they are.
"People are quite happy to sit back and just keep doing that what they've been doing.
"That won't be the way for them, and from what I've seen, the vast majority of guys are up for the challenge and like being pushed and achieving new things."
And Pothas says the island's players will have to share his vision of where Guernsey cricket is going if they are to stay in the side.
"From a playing point of view I have a very different and clear vision of where I'd like us to be.
"We have to decide which players fit into that vision and which can help us achieve that vision.
"I'm 99.9% certain that all the players want to be in that place.
"We can keep doing what they've done for a long period of time, or we can try something new and get some better results."