New Zealand v England: Ross Taylor return dominates build-up
By Stephan Shemilt
BBC Sport
Last updated on .From the section Cricket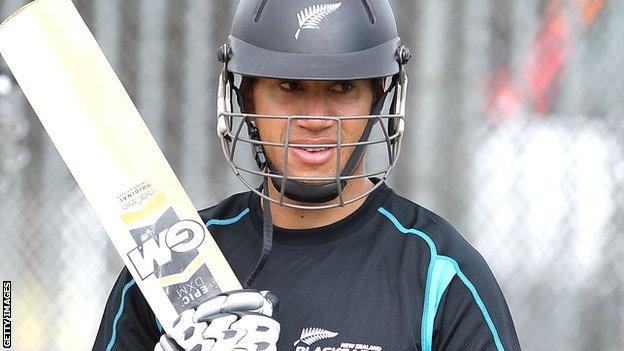 The return of a former captain and star batsman has dominated the headlines in the build-up to England's tour of New Zealand.
The saga has embroiled Kiwi greats such as Sir Richard Hadlee, Martin Crowe and Shane Bond and threatens to undermine the Black Caps' hopes of success against England.
After being replaced by Brendon McCullum, Taylor made himself unavailable for the tour of South Africa, saying he needed a "break" from the game.
Now, following two months away, the 28-year-old finds himself back in the spotlight as he prepares to line up against England in Saturday's first Twenty20 international in Auckland.
Hadlee, who took 431 Test wickets in his illustrious career, has warned about factions in the team and said he could not imagine an All Black rugby player deciding to "exile himself" from the side.
But Taylor, who has scored more than 3,000 Test runs at an average of 43.57, was relaxed when he spoke to the media on Thursday, saying he was working on rebuilding his relationship with coach Mike Hesson.
"I've got friends in the team and I'm looking forward to playing with them," he said. "I had a meeting with Mike the other day and it went well. Our relationship is a work in progress."
And he maintained that his relationship with McCullum was not a problem, and was looking forward to putting the controversy behind him.
"There was never anything wrong in the first place. We haven't had a meeting to clear the air," he said.
"There's probably still people outside of the team that want to stir it up a little bit, but we can't control that."
In his press conference before Sunday's opening Twenty20 against England, McCullum struck a similar chord.
"There was never really an issue between us, it was obviously an uncomfortable time for Ross and other people concerned but as far as our relationship goes we're fine and both looking forward to playing together," he said.
" Ross has come back into the group and fitted in seamlessly and we're expecting a big performance out of him."
The catalyst for the events surrounding Taylor's exile was a meeting between the then captain, Hesson, assistant coach Bob Carter and team manager Mike Sandle in a hotel room on the tour of Sri Lanka in November.
Taylor claims the trio informed him he was to be replaced in all three forms of the game.
"They all came into my room and pretty much said that I wasn't good enough to captain the team. I was stunned and I didn't really know what to say," he said.
Hesson, who took over as coach in July 2012, says that particular meeting was a review of the one-day series only.
"I didn't mention if the change in leadership was one form, two forms or three forms," he said. "My recommendation was for Ross Taylor to remain as Test captain and my preferred option."
Whichever is true, McCullum took over from Taylor, with the new skipper having to travel to South Africa without his best batsman.
The move prompted an outcry against the New Zealand board - former captain Crowe was reported to have burned his blazer in protest. Days later, the board apologised to Taylor for the way the affair was handled, while it later emerged that bowling coach Bond wrote a letter supporting Taylor's version of events.
All in all, a bit of a mess.
"It comes down to he said, they said," former New Zealand pace bowler and Test Match Special pundit Iain O'Brien told BBC Sport.
"A new coach is, in essence, allowed to pick his captain. Was I surprised? A little bit, but more surprised at the timing. How it came about baffled me."
The meeting in Taylor's hotel room took place after the limited-overs leg of the Sri Lanka tour was finished but before the two Test matches begun.
Sri Lanka had won the one-day series 3-0 and went on to win the first Test by 10 wickets. In the second, Taylor, thinking it was to be his last as captain, struck 142 and 75 as the Kiwis won a Test in Sri Lanka for the first time in 14 years.
"You don't tell someone two days out from a Test match that they are going to lose the one-day captaincy unless you also want them to relinquish the Test captaincy," added O'Brien, who took 73 wickets in 22 Test matches.
"If you don't have faith in a captain to do one job, then you don't have faith in him to do any of the jobs."
Taylor's record of winning just over 30% of his Tests in charge is second only to Stephen Fleming for all Kiwi skippers since 1987.
In one-dayers, though, his record of winning 33% of matches is significantly down on Daniel Vettori's 55% and Fleming's 48%. Hesson may have had a point.
The coach was further vindicated by results in South Africa. Under McCullum, the Black Caps were demolished in the Tests, but that was a series in which they were expected to struggle. After that, the 2-1 one-day series win was their first in any format away to the Proteas.
It is Taylor's batting that is most sorely missed by the Kiwis, though. The right-hander's presence may not have been enough to stop the Test defeats in South Africa - the Kiwis were bowled out for 45 in the first innings of the first Test - but the whole affair had an effect on the team, according to O'Brien.
"The Taylor issues may have played a part because, for some guys, we are talking about a friend, someone they would have spent a lot of time with and would be pretty close too," said the former Middlesex and Leicestershire seamer.
"It wouldn't have changed the outcome of the series, we still would have lost both Tests but maybe not so heavily.
"He's a very good player, but you won't turnaround the gulf just with one guy."
Taylor now hopes the problems will be in the past once he returns to the middle and starts scoring runs again.
"There are a few cameras here and I'm sure they're here for a reason," observed Taylor at this week's news conference.
"You've just got to get on with it. It is what it is, and I'm sure come Saturday it'll be all forgotten."