Kent chief executive Jamie Clifford in financial warning
Last updated on .From the section Cricket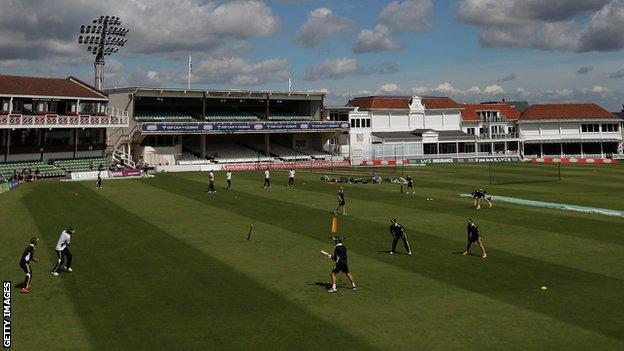 Kent chief executive Jamie Clifford has warned that the county are likely to post a loss when they publish their financial results for 2012.
Clifford told BBC Radio Kent: "It is probably not going to be a pretty set of numbers. We made no secret of the fact 2012 was a difficult year.
"A number of things mean the bottom line number is not going to be great."
He added: "From Tunbridge Wells onwards it was obvious we were going to have a few impacts, therefore the financial results have followed that.
"In addition, we've now got a fantastic ground but we are depreciating that at quite a high level. That has quite a large bearing on the bottom line.
"The financial results have to go through an audit process and that is yet to quite conclude. We are not far off."
Despite a difficult year, Clifford says he is more interested in the long-term view at the St Lawrence Ground, following investment in training facilities and a focus on developing young players through their academy.
"A lot of our costs are inherent in running a county cricket club," he continued.
"There is no quick fix and there is no point kidding ourselves that we are going to turn things around overnight.
"In terms of investment, there are things we are doing to make sure we continue that flow of home-grown talent. We continue to invest in our cricketers and youth programmes, and support the work of the Kent Cricket Board in developing young players.
"We've developed Polo Farm, Canterbury Hockey Club's venue, as a training ground for professionals as well as academy players.
"We've invested a six-figure sum there in practice facilities - grass nets, artificial nets as well as middle facilities. A lot of what we are doing is setting up for the long-term.
"The infrastructure and facilities we have got at Canterbury - the floodlights and improved conferencing facilities - as well as our cricket improvements such as our training ground, help set us up for the long term.
"It's not about a quick fix or chucking money at an overseas player and hoping you win a trophy. It's long-term sustainability. I think that's kind of where we are in our story.
"We're excited about what we have got so far and we believe we are doing the right things, both on the playing front in developing young players but off the field as well.
"I hope it will lead us to a place of strength and back to where we think we should be."