Alec Stewart: New Zealand memories on and off the field

By Alec Stewart
Former England captain and BBC Test Match Special summariser
Last updated on .From the section Cricket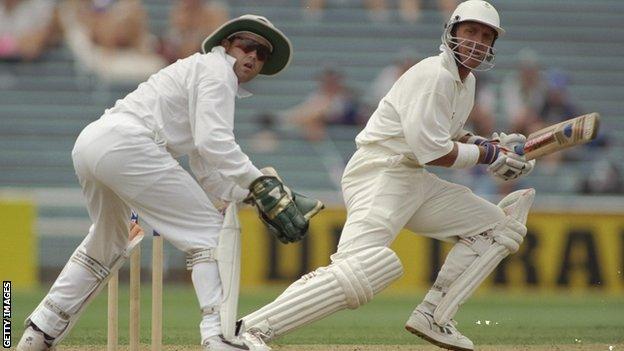 England's six-week tour of New Zealand is under way, and it is one of the countries I enjoyed visiting most when I was a player.
From both a team and individual perspective, I have some good memories of New Zealand.
It's a beautiful and friendly country to visit, and one which has so much to offer. The Kiwis are sports-mad and with a population of less than 4.5 million, they have an outstanding record of producing world-class sportspeople.
Their number one passion is rugby union and the All Blacks national team, but they have always had a competitive cricket team too and people like Sir Richard Hadlee, Martin Crowe and, more recently, Daniel Vettori are some of the best players to have played the game.
I have toured New Zealand on three occasions and found the playing conditions were similar to what they are in England and, to a lesser extent, Australia. One thing that could be guaranteed was the tough, hard-fought cricket played.
I suppose one of the landmark moments in my career happened on my first tour to New Zealand in 1991-92 because Graham Gooch appointed me as his official vice-captain for the first time and also asked me to open the batting - a position I enjoyed and had decent success at forming partnerships with Gooch and then Michael Atherton.
I had stepped in for Gooch when he broke his hand on a previous tour to the West Indies but this was the first time I had been permanently given the opener's role.
I soon discovered going in first suited my style of play and enjoyed the challenges of taking on the new ball which I proved by scoring two hundreds in three Tests as we won the series 2-0.
Another match which sticks in my mind is the first Test match of the 1997 tour when New Zealand's number 11 Danny Morrison, who rivalled Courtney Walsh for the most ducks in a career, batted for 133 balls and almost three hours to deny us a probable victory in Auckland.
I had scored 173 in our 521 all out, and we had New Zealand 105-8 in their second innings at lunch on the final day of the match - still 26 runs behind.
Our tour manager Bob Bennett had brought the champagne into the dressing room, and our captain Michael Atherton suggested he might be a bit premature and it was put on ice in the bath.
Morrison and Nathan Astle, who scored an unbeaten century, were still there at tea when the score was 207-9. Athers told Bob to get rid of the champagne and only bring it back if and when we had won. The Kiwis held on into the final session and we never saw those bottles again!
Thankfully we went on to win the next two matches, the last one being a tight game until John Crawley and Dominic Cork saw us home with four wickets in hand.
I expect England to win the Test series on the current tour, but at no stage should New Zealand ever be underestimated. That was proven on Tuesday when, after being outplayed in the first Twenty20 international, the Black Caps bounced back and hammered England in Hamilton.
Away from the pitch, there is so much to see and do in New Zealand and it is somewhere I would like to visit again.
If you're that way inclined it's a great place to try out some of the more extreme sports, like white-water rafting and bungee jumping, which we obviously weren't allowed to do as players, but I know of a couple of players who might have!
I'm also led to believe that they also have some of the best vineyards in the world in New Zealand - to which many of the England squad were introduced by Sir Ian Botham and Allan Lamb. Those two certainly had the ability and knowledge in showing the way in how to 'enjoy and appreciate good wine'!