Women's Cricket World Cup: Where did England go wrong?
By Stephan Shemilt
BBC Sport in Mumbai
Last updated on .From the section Cricket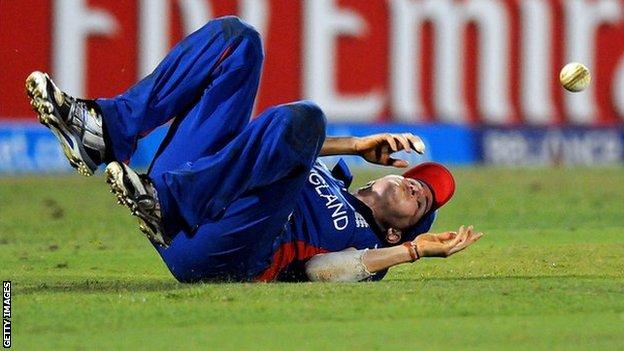 It was not meant to be this way.
But, two weeks on, Edwards was left to reflect on a campaign that did not stretch to the final.
"We came here to win this tournament and we haven't even reached the final," said the 33-year-old. "There's no excuses."
England can perhaps feel hard done by that their two defeats came by margins of one wicket and two runs, but that would only serve to mask what has been a hugely disappointing defence of the trophy they won in 2009.
The dropped catches and poor batting that cost them in those losses to Sri Lanka and Australia and also featured throughout the competition were not befitting of the best resourced team in women's international cricket.
"Two areas where England are usually very strong are batting and fielding and they have been poor," former England international Mark Butcher told BBC Sport.
"The simple fact is England had chances to get through to that final and they blew it. It literally slipped through their fingers."
It is the oldest of cricketing adages, but catches really do win matches. Twice Sri Lanka's Eshani Kaushalya was put down as she made 56 from only 41 balls to give the minnows their first win over England in any form of the game.
Then, with Australia reeling at 32-5, Lisa Sthalekar was dropped when on only 11. She went on to make 41 and the Aussies' 147 was just out of England's reach.
"If you come into a tournament as defending champions, lose to Sri Lanka and lose a game you should have won against Australia, then questions are going to be asked," added Butcher, who played 71 Tests for England.
Even then, England's deficiencies in the field might have been masked by the batters, particularly in that loss to Australia.
They were chasing a small target but were reduced to 39-6. The top-order had failed, as they had done against Sri Lanka and did again in the win over West Indies, although that modest target was reached.
Not one of England's batters passed 200 runs for the tournament, while only Edwards made a century.
Sarah Taylor made three consecutive ducks, with her 88 in the win over New Zealand coming after was she dropped on zero to avoid a fourth.
Aside from that, Jenny Gunn was the only other England batter to register a half-century.
"If Charlotte Edwards and Sarah Taylor make runs you are confident England will win, but when they don't perform you worry about the solidity of the middle order," said Ebony Rainford-Brent, a member of the victorious 2009 squad.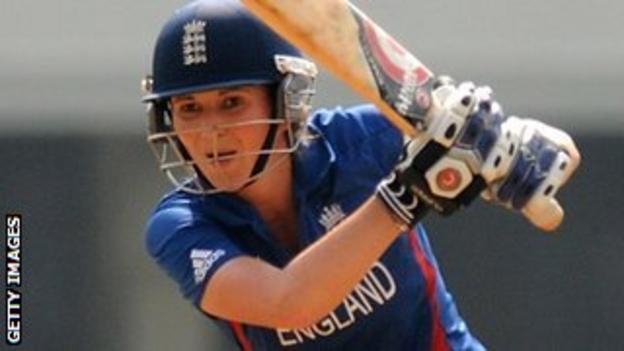 Taylor revealed before the tournament that discussions had been held over a switch to men's cricket. Her subsequent poor run revealed the timing of those comments to be questionable, according to Rainford-Brent.
"Though it was great for women's sport, it was the wrong time," said the former batter who played 22 one-day internationals.
"She has not looked the same player - even against New Zealand she was fortunate to get away with a dropped catch because it could have been four (ducks) in a row."
It would be wrong, though, to not highlight the positives of England's time in India, namely the success of new-ball pair Katherine Brunt and Anya Shrubsole.
With 25 wickets between them, they proved to be the most potent opening attack in the tournament, particularly when given the chance to bowl in helpful, early morning conditions.
"The seamers have been outstanding," said Rainford-Brent. "The partnership of Brunt and Shrubsole has stood out because of the extra pace they have on most teams.
"The other positive has been the economical spells delivered by Holly Colvin's left-arm spin."
But the success of a bowling attack seems slim pickings for a team that has now gone without a trophy since 2009.
After drawing the one-off Test with Australia that year to retain the Ashes, England have surrendered the urn down under, been knocked out in the group stage and lost a final of successive World Twenty20 competitions and now lost the last major trophy they held.
"We expect success because we've got some outstanding female cricketers," said ECB managing director Hugh Morris.
"When we don't come back with silverware it's a disappointment. We need to reflect on this tournament and see what we need to do."
With Morris looking ahead, England's immediate future involves the bid regain the Ashes later this year and the World Twenty20 in 2014. Edwards, the impressive leader without a standout candidate as successor, seems set on the bid to regain both crowns.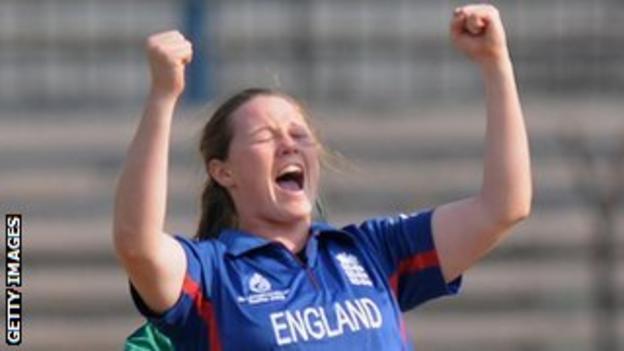 "I haven't even thought about retirement," said the Kent batter. "I can't tell you if I'll be at the next World Cup in four years' time because that is a long time away, but I'm enjoying my cricket and love playing with this group."
Questions may also be asked of Mark Lane, the coach who enjoyed unprecedented success at the beginning of his reign but has now presided over the near four-year barren spell.
"Mark Lane has had a good stretch, but you have to be careful and not say 'all change'," said Rainford-Brent.
"You have to ask what was different before? Is there still room to grow? If not, then you have to look at it and wonder if changes need to come."
Ultimately, though, even if Lane and Edwards are preparing, thinking and encouraging in the right manner, they cannot be guilty for dropped catches and batting collapses. In that sense, it is the players that must carry the blame.
"They say they haven't been good enough, it's a simple as that," concluded Butcher. "It's massively disappointing, but England are still a good team. They just haven't proven it in this tournament."