Max Sorensen handed Ireland 'A' contract after impressive 2012
Last updated on .From the section Cricket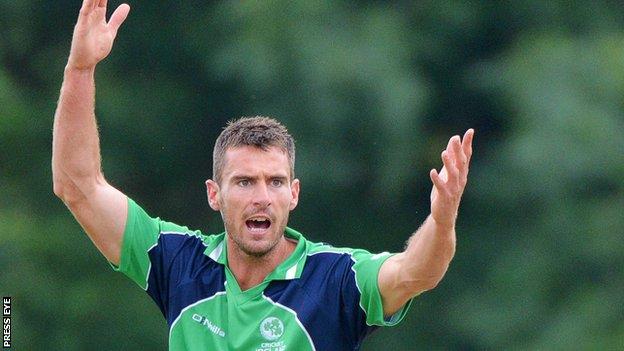 Max Sorensen has been added to Ireland's list of 'A' contracted players after impressing for Phil Simmons's side in 2012.
South African-born Sorensen joins other domestic Irish stalwarts John Mooney, Trent Johnston, Alex Cusack and Kevin O'Brien in being given an 'A' deal.
Belfast school teacher Andrew White is handed a 'B' contract along with seven English-based Ireland players.
These include William Porterfield, Paul Stirling and Gary Wilson.
The other players with English county sides to be given 'B' contracts are George Dockrell, Ed Joyce, Tim Murtagh and Niall O'Brien.
Promising pace bowler Peter Chase and the Cricket Ireland young player of the year Tyrone Kane are awarded 'C' contracts with James Shannon and Stuart Thompson which goes to players in full-time education.
The new contracts are handed out following the retirements from the Ireland scene of Nigel Jones and Albert van Merwe plus Boyd Rankin's decision to declare for England.
Sorensen took 31 wickets at an average of just 17 runs in his 21 games for Ireland in 2012.
"We have also awarded 'C' category contracts to four younger players who we see as a key part of our future," said Cricket Ireland performance director Richard Holdsworth.
"Nine of the 17 contracted players are also contracted to English counties, and our close relationships with those counties will hopefully allow them to play for Ireland as much as possible in addition to the ICC mandatory matches in season.
"In due course we shall be offering an additional five 'D' contracts to players who we feel have long-term potential, and these will be announced in time."
Thompson, a 21-year-old second-year Geography student at Northumbria University in Newcastle, said the awarding of a contract was an important stepping stone as he looks to build a career with the international side.
"It's fantastic to have added responsibility, and I hope it opens up more opportunities to play for the national side," added Thompson.
Ireland coach Simmons said that the move to professional contracts in recent years has been "key" to the country's development.
"The composition of the contracted players is an indication of what I strive for in my teams.
"As with any squad, there are bound to be a few players who are disappointed to miss out on a contract offer.
"With the new Inter-Provincial Series coming on track, they will all have the chance to prove me wrong, and the door remains open for additional contracts."