Jimmy Adams: Opportunities crucial for Kent youngsters
Last updated on .From the section Cricket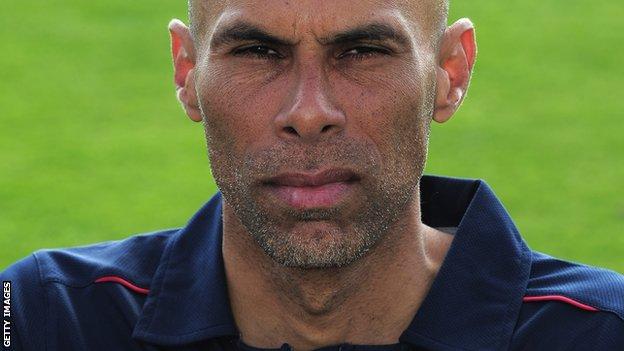 Kent coach Jimmy Adams says offering the right chances to their youngsters will be crucial in their development.
Kent begin the County Championship season at Leicestershire on 17 April.
"I believe we have a strong enough squad as the lads showed last year, collectively, that we are capable of matching it against the best.
"My gut feeling is these kids are ready to fly. I'd hate to be in situation where we ended up blocking that," Adams told BBC Radio Kent.
"One of the key issues for me, and from the club as a whole, is how we are going to try and direct our younger players through.
"[We must] ensure that we are giving these kids an opportunity - when they're ready and have deserved and earned that right."
Daniel Bell-Dummond,Adam Ball,Sam Billings,Sam Northeast, Matt Coles, Adam Riley, Ivan Thomas and Alex Blake were all given chances by the club last summer.
However, Adams said the club still needed to be "very careful that we get the balance right between where we think they are, in terms of their development, and where we can get them to expose them to opportunities".
Ensuring his younger players are positive and ready to make the most of opportunities when they arise is one of the former West Indies captain's main priorities for the season ahead.
"Last season Sam Northeast made himself ready. When the opportunity came, he ran with it. It was one of the big success stories," said Adams.
"The key thing is attitude from the young players. Keep them ready, focused and keep them hungry. But they must believe and must see that when an opportunity comes, they will be given it.
"If you take that motivation away from them you could end up negatively impacting them and future generations of Kent cricketers."
But the Jamaican, who was appointed as Kent coach in January last year, says it would be wrong to pre-plan exactly when younger players would be exposed to first-team action.
"A lot can happen over the course of the off-season, but from what a I saw last year, all of them have shown and have given me the impression they are chomping at the bit.
"The challenge is prepare yourself in the off-season and let us see what opportunities are there at the start of the season," he added.
"You don't sit down and try and premeditate where opportunities are going to come from.
"If you look across all formats of the game and the size of the squad, there are going to be opportunities.
"Where and when, I am not going to predict that."