Women's World Cup 2013: A tale of pace, power and global interest
By Stephan Shemilt
BBC Sport in Mumbai
Last updated on .From the section Cricket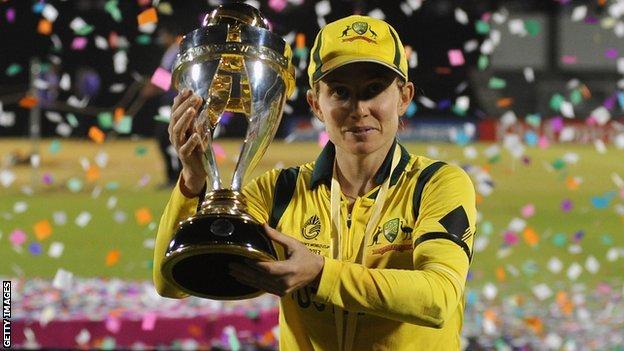 The Women's World Cup came to an end on Sunday with Australia lifting the trophy for a sixth time.
The Southern Stars' 114-run victory over West Indies in Mumbai ended three weeks of pace bowling, power-hitting and shock results.
BBC Sport takes a look back at all the major talking points.
CUP OF UPSETS
The second day of the Women's World Cup set the tone for what was to come. Sri Lanka's stunning one-wicket win over England may have been their first win over the defending champions in any form of cricket but it was no flash in the pan.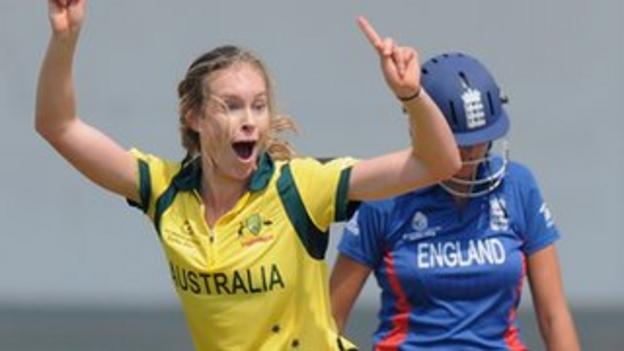 Their 138-run defeat of India put the hosts out and went a long way to preventing England from reaching the final, with Charlotte Edwards' side heading home after West Indies pulled off first-time wins over New Zealand and Australia. Women's cricket has become a global game.
"It's exciting that the teams are coming closer together," said Edwards. "Teams are beating teams that you would never have expected, so globally we've got to be very proud of what this tournament has done for women's cricket."
THE AGE OF PACE
Expected a World Cup hosted in India to be dominated by spin bowling? Think again. This tournament has been ruled by fast bowling, with teams all across the globe unearthing bowlers of genuine pace.
Ten of the top 11 wicket-takers were seamers. The likes of England's Katherine Brunt and Anya Shrubsole, Megan Schutt and Holly Ferling of Australia and India's Jhulan Goswami have brought a new dimension to the women's game.
"That is the way the game is moving," said former England batter Ebony Rainford-Brent. "If teams want to stay competitive over the next five years then they are going to need a couple of genuine quick bowlers."
SIX SHOOTERS
The power hasn't only been coming from the pacers, with the batters also showing that they are pushing the women's game forward.
Eshani Kaushalya led the way, blasting 56 from 41 balls in Sri Lanka's shock win over England.
But the most devastating display came from West Indies' Stafanie Taylor, who thrashed 171 from 137 balls against the Sri Lankans, even managing to overshadow her team-mate Deandra Dottin's 20-ball half-century in the same game.
New Zealand's Sophie Devine, South Africa's Cri-Zelda Brits and India's Harmanpreet Kaur have also shown themselves to be adept at clearing the rope, with England coach Mark Lane admitting his side need to find longer hitters.
"We have players who can hit sixes but we need more, especially when we play on good surfaces," he said. "We are looking for players that can hit the ball a long way."
AWESOME AUSSIES
While traditional powerhouses England, New Zealand and India were falling by the wayside, Australia were clinically moving towards a sixth world title.
Yes, there was a shock loss to West Indies in the Super Six stage, but the Southern Stars demonstrated in the final that they were by far the best team in the tournament.
In doing so, Jodie Fields's side added the World Cup to the World Twenty20 and Ashes, holding three major crowns simultaneously to prove their dominance of the women's game.
"They have proven what a quality team they are," said New Zealand captain Suzie Bates. "Everyone in the squad has contributed in some way and the likes of us and England now have to work hard to catch up."
SCHEDULE SHENANIGANS
The build-up to the tournament was dominated by scheduling problems, with the programme of matches not finalised until five days before the opening game.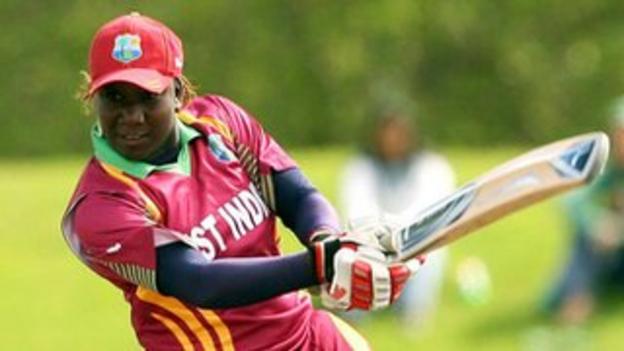 The whole event was initially set to be in Mumbai, but protests against Pakistan's presence in the city led to half the tournament being shifted to Cuttack, about 1,000 miles away.
The result was Pakistan and South Africa playing all of their matches in the eastern city, while back in Mumbai, women's matches were evicted from the Wankhede Stadium to accommodate two men's domestic games.
"I'd hate to think how frustrating that was for the players," said former Australia batter Mel Jones. "If it was known early enough that these issues would have affected a men's tournament, then the whole thing would have been shifted elsewhere."
UNDER-PAR UMPIRES
With the male and female World Twenty20 competitions run concurrently, women enjoyed the benefit of the International Cricket Council's elite umpires taking charge of their games.
At the World Cup, the officials were largely drawn from the ICC's Associate and Affiliate Panel, with poor decisions a particular feature of England's defeat by Australia and West Indies' win over New Zealand.
The problem was exacerbated by DRS not being available, with the third umpire was only used for line decisions in televised matches.
"I think we're worth that investment, if it's there I feel it should be used," said England coach Lane of DRS. "There's a cost implication there but if that's going to get the best results then maybe it is a good investment from the ICC."
INDIA ENGAGED?
The interest of the host nation was understandably hampered by India going out in the group stage, but questions will be asked about the promotion of the event.
While the ICC can point to viewing figures for the opening two matches being more than 10 times up on 2009, they might have had even greater interest had the fact that entry to all matches was free been promoted more extensively.
Publicity was absent around Mumbai and Cuttack while, inside the grounds, spectators could not buy a matchday programme or merchandise - and even struggled to find food and drink.
"The whole focus was trying to attract a large global TV audience, but that's not to say we ignored the Mumbai people," said ICC chief executive Dave Richardson. "So far the results and the feedback we've got have been beyond our expectations.
"Programmes and merchandise are all nice to have, but in this part of the world they don't make money. We have to attract more revenue in the women's game if we are to spend money in those areas."
LEGACY
The 2013 World Cup will be remembered as a tournament when the on-pitch progress of women's cricket accelerated still further.
Fast bowling and big hitting has created a new identity for the game, while the improvement of traditionally weaker sides has brought much-needed competitiveness away from the usual powerhouses of Australia, New Zealand and England.
Off the pitch, however, there is a real danger that India will forget the tournament very quickly, if it ever noticed at all.
"For the host nation, sadly, I don't think there will be any legacy," said Jones. "But on the pitch, this tournament will be remembered for the young guns, so many young players showing a style of play that is refreshing and combative.
"If we keep them and support them in the right way then the game is in really good shape."