Women's Cricket World Cup: Team of the Tournament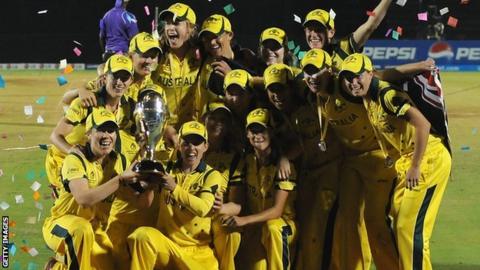 When asked to compile a team of the World Cup, I thought, "no problems". Little did I realise how hard it would be. I decided that in no way would any "previous" be taken into consideration, so this team is purely selected from performances from 1 February to 18 February 2013.
The 17 days of competition finished with Australia making it a hat-trick of World Cup wins with a 114-run victory over the West Indies in Mumbai, with the Southern Stars now simultaneously holding the World Cup, World Twenty20 and the Ashes for the first time.
The side is selected in batting order.
Susie Bates (New Zealand)
The most consistent player of the Women's World Cup who has the ability to bully bowlers. Watching any batter there is usually an area or two on the ground where they consistently score but not Bates. She hits 360 degrees, with impeccable timing, but has the power to play the big shot. Accomplished against pace or spin, Her scores in the group stage read 73, 65*, 102, 37, 30 and 79. Not one failure. By far the batsman of the tournament.
Charlotte Edwards (England)
Coming into the tournament she will admit herself she couldn't hit a cows backside with a banjo. However, after an unlucky dismissal in the first match, she then struck a quite brilliant hundred against India. She scored one run off her first 20 balls in bowler-friendly conditions, hardly timing a ball, and after hard graft the timing switched flicked on, and she was in. She didn't bat against the West Indies as she was poorly, and then was adjudged LBW against Australia which was (even on first sight) a shocking decision. A half-century and a match-winning 100 in the third-fourth play-off v New Zealand, showed that she is still one of the elite talents in the game.
Rachael Haynes (Australia)
Not in the class, perhaps, of Meg Lanning or Jess Cameron but has been a constant nuisance to most bowling attacks, scoring three half-centuries, one of which got Australia off to a solid start in the final. A gritty left-hander, she won't win any prizes for finesse in her stroke play but Haynes values her wicket dearly. Others will get the headlines but the champions owe a lot to a player that has helped give bowlers totals to defend.
Stafanie Taylor (West Indies)
This was a tough pick - she was the second highest run scorer in the World Cup which, theoretically, would get her a spot. However she only really had two innings of note, and both were against weak bowling attacks. But it was the nature of the innings which helped the West Indies achieve a strong Net Run Rate to help them qualify for the super six, and put them in a strong position to reach the final. Her 171 against Sri Lanka, by all accounts, was a devastating innings, and she also helps the balance of my side as the second spin option.
Deandra Dottin (West Indies)
One player that, when strutting to the crease, everyone would stop what they were doing and try to achieve a decent vantage point to watch this powerhouse. Cavalier but hugely talented, as soon as she took guard she was "in". Take Australia in the last game of the super six. You need to win to make the World Cup final and your team is 59-5. Dottin, facing up to Holly Ferling - who is bowling good pace and taken three of the five wickets to fall - blasts her first ball at extra cover, then proceeds to launch Ferling back over her head for consecutive fours. Play yourself in Deandra? Not a bit of it. A game-changer, who with that 60 in the game, helped her team upset the odds. Ten sixes in the tournament and a strike rate of 136 tells its own story.
Lisa Sthalekar (Australia)
The toughest choice in the side, as I've only gone for one out and out spinner. I agonised over Sthalekar and England's Holly Colvin. Both have been the outstanding slow bowlers on show but the reason I've selected the Aussie is that her economy throughout has been miserly. Even when batsmen are looking to attack she teases them by throwing it up and enticing them, where most would be looking to bowl flatter and spear the ball in. She also is high quality fielding in the circle, and can bat, as her controlled 41 against England showed.
Jodie Fields (Australia)
I need a wicketkeeper and I need a captain. As captaincy goes, no-one has displayed the leadership she has. Fully in command, her field placings and bowling changes have shown adaptability whatever the situation, constantly making the opposition think so they never feel comfortable. Could have been man of the match for her captaincy alone against England in the super six match when defending 148. Her glove-work has been very strong too.
Eshani Kaushalya (Sri Lanka)
If any player has summed up a tournament it's Kaushalya. She was the player that bashed her way into our hearts with a half-century against England at the start of the tournament, smashing 56 from 41, enabling Sri Lanka to announce itself as a new force on the women's cricket scene. She then repeated the feat against India, meaning the hosts made an early exit. There was a carefree exuberance about her lower-order hitting, and bowling useful medium pace, Kaushalya was one of the most talked about players in the competition.
Anya Shrubsole (England)
The leading wicket-taker at the Women's World Cup, and remember that's in four matches after being left out of the first match against Sri Lanka, and feeling too ill to field against New Zealand. It's been a real coming out party for the Somerset bowler, who is in the top three in every bowling category - average, strike rate, economy rate. She could have had at least two more victims if it wasn't for umpires turning down stone-dead LBW decisions. Unplayable at times, and sometimes a bowler can get too greedy in favourable conditions. Not Shrubsole, as she stuck to her guns with highly intelligent and skilled displays.
Katherine Brunt (England)
Shrubsole has blown away top orders, but it really helps when the bowler at the other end is Katherine Brunt. If I was to pick a bowler to do any job in a one-day match, I would throw the ball to her. With pace to bowl genuine bouncers and natural away swing, she has been a menace up front and at the death. Much like Deandra Dottin with the bat, the excitement level has lifted this World Cup when Brunt has the ball.
Holly Ferling (Australia)
What a find this girl is. Tall, lean, just 17, and with an action that could be placed in a fast bowler's manual. The ankle injury to Ellyse Perry gave Ferling her chance and she burst onto the scene against England, taking 3-35. She gets natural lift because of her height, making it tough for batsmen to hit through the line. I would have loved to have seen her bowl in tandem with Perry in the final, however she wasn't selected, but no matter, she has made her mark in the tournament.
I stress again that this is my team of the tournament and not a World XI. If it were then, it would contain the likes of Meg Lanning, Holly Colvin, Sarah Taylor and Ellyse Perry. And players such as Aaron Brindle, Sian Ruck, Marizanne Kapp, Erin Osborne and Megan Schutt have performed admirably over the past three weeks. But the players selected have really galvanised this World Cup, and got people talking more about women's cricket, and that should be applauded.