Laura Marsh: We are even more determined to win the Ashes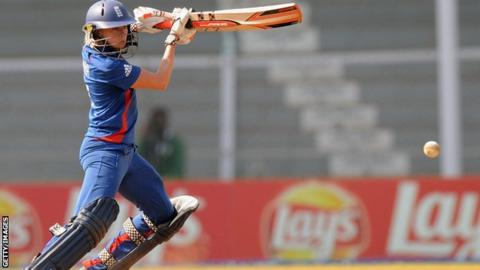 I am bitterly disappointed that we didn't make it through to the final and have a chance to try to retain the World Cup.
We can't do anything about that now but I think we can learn an awful lot from the experiences we have had as a side.
Our next cricket is the Ashes, with the Aussies coming over in the summer and we'll certainly be up for that.
England's performance
We played some brilliant cricket throughout the tournament but didn't get ourselves over the line at various points. You can't afford to lose two games at a World Cup.
On a personal level you always want to be contributing to the team and I have come away from the tournament a little disappointed with my own performances. On pitches offering little turn in the early stages of the tournament, there was little margin for error and unfortunately I didn't perform as I would have hoped with ball in hand.
Looking at the positives, it was fantastic to have both Anya Shrubsole and Katherine Brunt fit to play in the same side. They proved a handful for most opposition top orders, making early inroads in many of the games.
Katherine has been performing consistently for years now but this was a great tournament for her and Anya has really shown the world what a talented bowler she is. At such a young age it will be great to see her progress.
Holly Colvin was the stand out spinner in the competition. She bowled with brilliant control and created pressure through those middle overs.
Charlotte Edwards led from the front as she has done for many years now and her ton against India was one of the best innings I have seen her play in what was a very high pressure game.
Impact on women's cricket
To see the West Indies reach the final of the World Cup is fantastic for women's cricket. It shows the improvement and progression that is happening all over the world. There are now a number of sides including Sri Lanka raising their games. It's exciting for the development of the game and hopefully it will attract more and more young girls from around the world to the sport.
Any opportunity that we get to showcase our skills is important. I think World Cups really add to the interest - you get to see teams from different countries and it has more of an element of excitement about it for spectators. Hopefully people have been excited by the games on television.
There were certainly some very close games. Ours against India was one of the highest quality cricket games I've played in and hopefully that came across. It was also fantastic to have coverage back in the UK through BBC Radio 5 live Sports Extra and many of the national press covering our progress.
It is great to see a growing appreciation for the women's game. Women are never going to be as powerful or be able to bowl as quickly as the guys do but in our own way we are just as skilful. This tournament has shown how the women's game is developing, we saw plenty of sixes and bowlers like Katherine Brunt reaching speeds of 75mph.
Being on Tour
Our time in India was brilliant. The main ground at the CCI was fantastic for women's cricket. There were some great pitches and it was a real privilege to be part of a World Cup in India where cricket is what they love and what they know.
All of the players were very lucky to be staying at the Taj Mahal Palace in Mumbai, which is one of the best hotels in the world. Trinny and Susanna, Camilla Parker-Bowles and most notably David Cameron were among the guests staying in the hotel.
I roomed with skipper Charlotte Edwards for near enough 20 days. It was obviously a rollercoaster two weeks for us with some results going our way and others not. There were many tense hours spent chatting, discussing all the permutations of what the tournament might hold.
It's obviously a long time to spend with one person but we get on very well. In such a big hotel if you wanted to wander off or go out or have your own space it is very easy to do that. At the same time it was really nice to share those moments and experiences with Lottie.
We've got a great group of girls who all get on well and it's nice when we are on tour that most of us have our doors open when we are in and pop in and out to see different people, which helps keeps things relaxed in our down time.
From the point of view of getting on with the girls and having experiences to remember it was a really good tour. The character we showed as a group at different stages was fantastic and I hope we can take some of these positive memories with us into future tours and World Cups.
My mum and dad were there for the whole tournament and it was great to have their support. But it's still quite a long time to be away from home so it's nice to get home and catch up with friends. Obviously there are all the home comforts you missed while away. A nice cup of English tea was quite satisfying!
What next?
We have got a month or so off now because it's been a hectic year with lots of tournaments and series. I'm a sports massage therapist so I do that in between cricket tours and I'm looking forward to getting back into that.
At the end of March we have an England training weekend so hopefully that can be the start of the next campaign and we can put this behind us.
Our focus then will be Ashes and we will be doing everything we can to win them back. It's bound to be an exciting summer of cricket, it always is when we play Australia. Playing them in all three formats of the game will be the ultimate challenge for us and them.