Alec Stewart: Ricky Ponting will benefit Surrey and county game

By Alec Stewart
Ex-England captain & Test Match Special summariser
Last updated on .From the section Cricket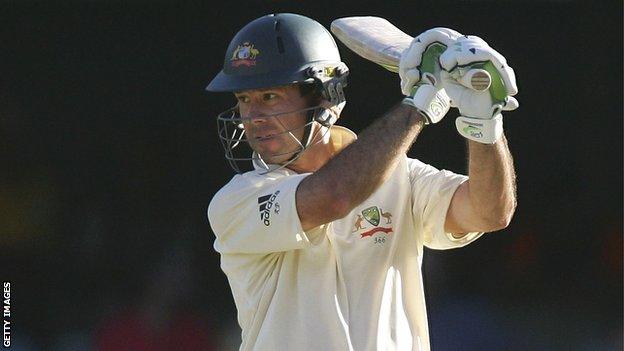 The signing of Ricky Ponting along with that of South Africa captain Graeme Smith is great news not just for Surrey CCC but for county cricket too.
To have two of the biggest names of the game playing in our domestic competitions should give everyone associated with the county game a huge lift.
Ponting, the former Australia skipper, is one of the greatest batsmen to have played the game and will bring his skills, knowledge and experience to The Oval which will only enhance Surrey's chances of success this season.
Ponting may have already achieved everything in the game but his desire to play and perform for Surrey is strong and I expect him to have a huge impact both out in the middle and within the dressing room.
Wednesday saw a pretty convincing eight-wicket win for England in Napier to level the one-day series against New Zealand.
Most of the headlines were about Joe Root, who yet again has impressed in the early part of his international career, but I thought James Anderson with his five wickets and Steven Finn set the tone from ball one and put pressure on the New Zealanders straightaway.
Despite Ross Taylor's fine hundred and that brilliant 74 off just 36 balls from Brendon McCullum, New Zealand were always 25-30 runs light of what was a par score on that pitch and with those short boundaries.
As long as England got off to a good start, which they did, a win was always on the cards.
I read some criticism of the batting line-up after the defeat in the opening match and people can be quick to make assumptions after just one game, whether it be a win or a loss.
Some supporters were calling for Alex Hales to be put in the 50-over side after his outstanding 80 from 42 balls in the Twenty20 but who does he play instead of?
He's an opening batsman, Alastair Cook is captain and Ian Bell has just gone 113 not out, 64 and 44. You've got to earn the right to get in the side, and as well as Hales is doing in the T20 format he knows he's got to keep working and create a case where he has to be selected, but while people are in possession and performing it makes it very difficult to get in.
It should not be forgotten, that the 50-over squad hadn't had a full training session together let alone a warm-up match before the opening ODI, and that Jonathan Trott, James Anderson, Stuart Broad and Graeme Swann had not been a part of the five-match series in India last month and were therefore ring-rusty.
New Zealand always believe they can beat anyone and I thought they played good cricket in the opening game in Hamilton, beating a below par England by three wickets.
But in Napier the visitors bounced back exceptionally well and now it's nicely set up for a decider in Auckland on Saturday.
Root made his third half-century in this form of the game and became the first player to start their ODI career with six successive scores of 30 or more.
He is just 22 and has got everything going for him, immense talent, great temperament, a very mature head on young shoulders and is improving by the day.
He looks to have a very bright future at the highest level in all forms of the game and he'll just go from strength to strength. He's impressing everyone, not just the English cricket fraternity but everyone who has come up against him, whether it be those in India or in New Zealand, they can see what an exciting talent he is.
Another good thing is his adaptability, he can open, or bat anywhere in the top six, he understands match situations very well, when he has to play expansively he can and when he has to rebuild an innings and make sure England get to a certain total he's done that too.
He's covered all bases in what has been an outstanding start to his international career, and appears to have the character to take everything in his stride as well.
From a young man making his way to one already at the top of the tree, Anderson, still only 30, has become England's most successful international wicket-taker.
He's right up there with the very best, records are there to be broken but if you go past someone like Sir Ian Botham you've got to be pretty special and Jimmy Anderson is certainly something very special.
I played Test cricket and one-day cricket with him, he impressed me then, and I've now been able to watch him develop into a world-class bowler in all forms of the game. There is no reason why he can't go on to break many more records.
He understands his game, he's a fine exponent of swing bowling and has great variety and control with both the new and old ball.
He's England's lead bowler and the captain's "go-to" bowler when they need something to happen and has enjoyed this added responsibility. He has also grown in confidence as his career has developed and sets a great example for everyone to follow.
England decided to manage his workload and rest him for the one-day series in India and though you always want to be able to pick your best side, at the same time you've got to have one eye on what is best in both the short and long term.
As a player you never want to miss games for your country but if it means prolonging your career then it is a sensible way of doing it and it looks like it's working well for the likes of Anderson.
The overall quality of the squad is improving, and with Kevin Pietersen to return, plus Tim Bresnan when he recovers from his elbow operation, the signs are looking promising.
All they have to do now is win the series on Saturday and take that confidence with them into the summer starting with the home series against New Zealand and then the Champions Trophy in June.
Saturday's game in Auckland is effectively a cup final and New Zealand should not be under-estimated, they beat South Africa 2-1 away just a few weeks ago but I think England are a better team man for man. They have bowlers who can take wickets and batsmen who can post large totals.
At the moment New Zealand look too reliant on their captain McCullum. Taylor played very well for his 100 and I've been impressed with Kane Williamson, who has made 74 and 33, but otherwise their batting lacks depth.
In the bowling department the loss of Mitchell McClenaghan to a side strain has hurt the Kiwis as I don't see anyone else who has the ability to take wickets when it really matters. It's alright trying to restrict sides through tight bowling but taking wickets will win you more games.
England dominated the recent Twenty20 game at Auckland, and if they can replicate and improve on what they've done in this latest game then I see no reason why they can't secure the series.
The three-match Test series then follows and I'd expect England to win that too.
Alec Stewart was talking to BBC Sport's Jamie Lillywhite