MCC changes no-ball law over breaking stumps while bowling
Last updated on .From the section Cricket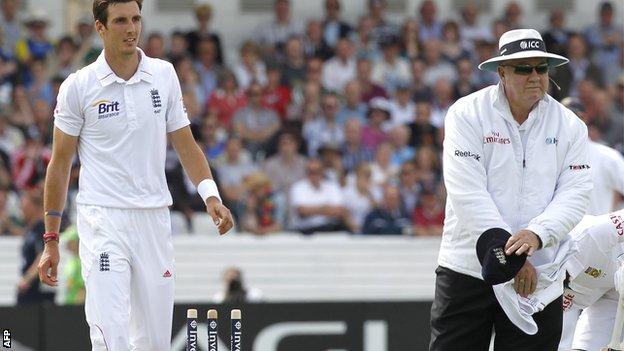 The Marylebone Cricket Club has announced changes to the no-ball law from 1 October.
A no-ball will be called if the bowler breaks the stumps during the delivery stride, a problem that has affected England's Steven Finn in recent times.
There had been no law on the issue previously, although 23.4(b)(vi) allows the umpire to signal dead ball if the batsman is distracted.
Finn has twice been denied wickets when a dead ball has been called.
The Middlesex paceman had South Africa captain Graeme Smith caught at slip on the opening day of the second Test at Headingley last August, but umpire Steve Davis ruled Smith not out.
A similar incident occurred during the one-day series in India last month, and Finn has shortened his run-up in an attempt to cure the problem.
The MCC is responsible for the laws of cricket worldwide and their laws sub-committee, which includes former international umpire Simon Taufel and International Cricket Council chief executive David Richardson, have made the recommendations to the MCC committee.
MCC head of cricket John Stephenson said the decision "provides clarity to the situation and removes the need for a subjective assessment to be made by the umpire".
He added: "It also ensures that the striker will still be credited with any runs that he scores from the delivery, and will act as a significant disincentive to the bowler from doing it."
In the period before the change comes into force, the ICC, the game's world governing body, may introduce a playing condition - rather than a law - for international cricket to allow the umpire to call a no-ball.