Tom Maynard inquest: English cricket to step up drug testing
By Sam Sheringham
BBC Sport
Last updated on .From the section Cricket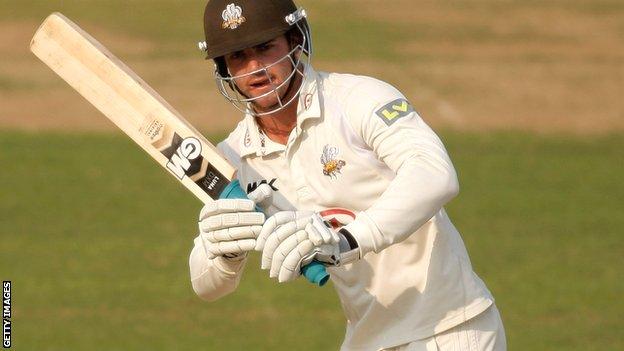 English cricket bosses are planning to step up testing for recreational drugs following the death of Tom Maynard.
According to post-mortem examination evidence presented at an inquest, the Surrey batsman was high on cocaine and ecstasy when he was electrocuted before being hit by a train last June.
Speaking after a jury at Westminster Coroner's Court returned a verdict of accidental death, coroner Dr Fiona Wilcox urged cricket and other sports to introduce hair testing to determine long-term drug habits.
The inquest heard that tests on hair samples indicated Maynard may have been a regular drug user up to three-and-a-half months before his death.
Professional Cricketers' Association chief Angus Porter, who believes cricket does not have a drug problem, told BBC Sport: "More testing will improve our chances of helping players with a problem which is as much societal as it is sporting."
On average, up to 200 tests are carried out each year as part of the England & Wales Cricket Board's (ECB) testing programme, which encompasses all registered professional county cricketers.
These almost always take place on match days and are only likely to detect the use of performance-enhancing substances.
Last season, one player - Somerset's Pakistan spinner Abdur Rehman - tested positive for cannabis during an in-competition test and was handed a 12-week ban.
England international players are also tested as part of the International Cricket Council's anti-doping programme.
The ECB and PCA have recently agreed to develop an out-of-competition testing programme to encompass recreational drugs.
Both bodies are holding talks aimed at introducing more testing of hair samples, which can reveal whether players have used recreational drugs in the previous three months.
This would follow the example of the Football Association and Rugby Football Union, which have both introduced measures that go beyond the stipulations of the Wada (World Anti-Doping Agency) code by testing for recreational drugs away from match days.
Any player found to have taken a recreational drug would be offered counselling and support in the first instance, with suspensions only applied to repeat offenders, Porter explained.
"We have a comprehensive programme of testing, in and out of competition for performance-enhancing drugs - very much in line with the Wada code - and also testing for recreational drugs," he added.
"What we are now in discussions with the ECB on is whether we need to extend the testing for recreational drugs to out of competition and I think we both think that is a good idea.
"We are working on plans for that and investigating the practicality, following sports such as rugby and football which have done similar things.
"We all think that the use of recreational drugs out of competition needs to be thought of very differently from performance-enhancing.
"The purpose of the taker is very different. They are not cheating and need to be thought of differently and it is too easy for people to confuse this."
Cardiff-born Maynard, son of former Glamorgan and England batsman Matthew Maynard, moved counties from his native Glamorgan to Surrey in 2011.
The 23-year-old was found dead near Wimbledon Park station shortly after 05:00 BST on 18 June 2012.
The inquest heard on Tuesday that Maynard, who had been tipped as a future England international, was electrocuted on a railway line before being struck by a train, as he tried to evade police after driving while drunk and high on drugs.
A post-mortem examination showed he was nearly four times the legal alcohol limit to drive and had also taken cocaine and ecstasy in the form of MDMA after a night out with his two flatmates in Wandsworth, south London.
Following investigations at the end of last season, Surrey have introduced a team-wide anti-drugs policy, by which all players and management are required to abide.
Richard Thompson, Surrey chairman, told BBC Radio 5 live: "Numerous sports have had problems with drugs and have dealt with them in different ways. This is the most horrific outcome anyone has witnessed.
"It is hard to know what we, as a club, could have done given that those closest to Tom were completely unaware.
"If there is one legacy that can come out of it, it acts as a reminder to any sportsman, to any person, the dangers of drugs and what it can lead to."
A statement issued by the ECB and Surrey after the verdict read: "While the ECB accepts that recreational drug use is a part of modern society, we do not condone it and will take all reasonable steps to prevent its use within the game."
On Thursday, the PCA is inviting 24 young county cricketers to its annual "Rookie Camp" where they will be be given talks on issues including safe drinking, anti-doping, anti-corruption, and health and well-being.