NZ v England: Nick Compton should open, says Alec Stewart

By Alec Stewart
Ex-England captain & Test Match Special summariser
Last updated on .From the section Cricket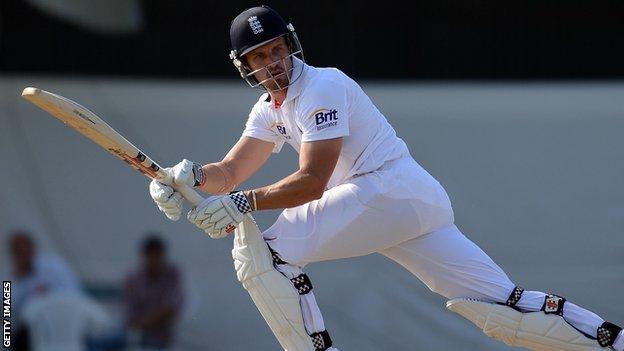 Much of the discussion leading into next week's first Test in New Zealand seems to be focused on who should open the batting alongside captain Alastair Cook.
We will find out whether the selectors are planning to go down that road when the team for their only warm-up game against a New Zealand XI in Queenstown is announced on Tuesday evening, because England are likely to want to pick the side that they have earmarked to play in the Test.
My view is that Compton deserves to keep hold of the opener's role and build on the promise he showed in India.
The subcontinent is one of the hardest places to open the batting because you come up against spin bowling very early on in your innings but I really like what I have seen from Compton, both from a mental and technical point of view.
He has a proven track record of scoring big runs and is used to batting for long periods, and that is always a good skill to have as a top order batsman.
I hear he is quite an intense character but that is no bad thing. Nasser Hussain was very intense leading up to and during a Test match but he had a good record as a batsman and was a very fine captain.
The selectors are paid to make ruthless decisions, and they have got more things right than wrong in recent times, but the overriding consideration here has to be winning the series against New Zealand home and away while getting the right team in place to defend the Ashes this summer.
Root has shown great skill, talent and temperament to date and I'm not against him learning more about Test cricket from the number six spot and then being promoted to open.
He wouldn't be the first player to start off in the middle order and then open the innings. Michael Vaughan and Graham Gooch, for example, both began their England careers in the middle order, while Australian players such as Justin Langer and Simon Katich didn't open when they were first selected.
England are fortunate to have two exciting young players with the qualities of Root and Bairstow. Both are good enough to be playing Test cricket, and if you could pick 12 or 13 players in a team selection would be easy.
The bottom line is that the selectors must pick people who will help win Test matches and Compton appears to have the right ingredients required in the longest form of the game.
While England's strongest batting line-up is sparking plenty of debate, the bowling unit looks more clear-cut, with James Anderson, Steven Finn and Graeme Swann all nailed-on selections.
I would be surprised if Stuart Broad does not complete the four-man attack in Dunedin although Graham Onions will be pushing him all the way.
The Durham man is an excellent bowler who reminds me of Glenn McGrath and Shaun Pollock in the way that he gets close in to the stumps, bowls wicket to wicket and can surprise batsmen with his pace.
He is definitely a Test class bowler, but I think they will start with Broad so long as he comes through unscathed as he has generally performed well when he has been close to 100% fit and has only struggled when he was blighted by injury and illness.
Every player in the England team is always under pressure to perform, but Broad will be particularly aware that his position is under scrutiny and will be eager to show exactly what he can do.
The four-day warm-up game is important preparation because England haven't played any red-ball cricket since the fourth Test in Nagpur before Christmas and haven't played in these more English type conditions since the last Test against South Africa in August.
Most of the squad have played plenty of one-day and Twenty20 cricket in the meantime, but this is about getting your Test match head back on - knowing where your off stump is, making sure that when you get in you stay in, and that when you bowl, you bowl with discipline.
It is a first-class match and England should be playing to win it, but at the same time each individual should be focusing on honing their skills for next week's series opener.
Alec Stewart was talking to BBC Sport's Sam Sheringham