Warwickshire: Bears can get even better, says coach Dougie Brown
Last updated on .From the section Cricket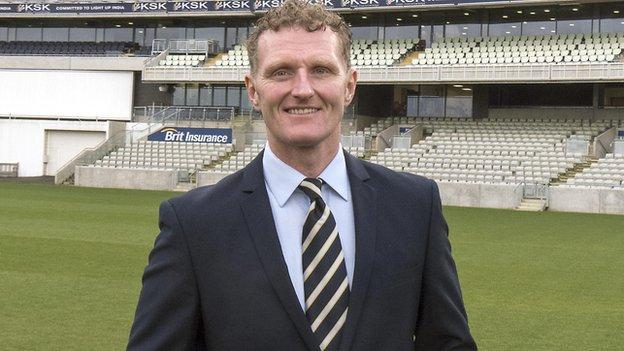 Warwickshire coach Dougie Brown says that the Bears squad he has inherited are capable of matching the success he enjoyed as a player in the mid-1990s.
Six weeks away from the start of the new season, Brown cannot wait to see what the reigning county champions can produce in 2013.
"The balance in the squad at the moment is phenomenal," he told BBC WM.
"The current squad are getting very close to being as good, if not better, than the squad of the mid-1990s."
Brown was a key part of a Bears side that won seven trophies in five summers between 1993 and 1997, and he went on to win two more winners' medals before retiring in 2006.
But, having been chosen a month ago to step up from his assistant coach role to succeed England's new one-day supremo Ashley Giles as director of coaching at Edgbaston, Brown knows just how good a squad he has inherited.
"If this team continue to develop, it will be interesting to see what we can do over the next few years," said Brown.
"We've got an outstanding bowling attack. We've got every base covered.
"We've got left-armers, fast bowlers, tall bowlers, bounce bowlers, all really happy to be doing the hard yards, to be doing the bowling in the hard overs when somebody is cleaning up at the other end.
"If you're going to be a successful club, you have to take away that selfishness. You can't be the one that's always getting the glory. You can do a lot of hard work with nothing to show for it.
"That is what we did in the mid-1990s. This squad are very much getting back to that and the future bodes well."
Warwickshire will travel to the Caribbean next week for a pre-season training camp, where they are also scheduled to play a series of Twenty20 matches.
They then move on to the Persian Gulf for the now annual season curtain-raiser in Abu Dhabi against the MCC, starting on 24 March.
Warwickshire then return to England to take on Oxford University in the Parks on 5 April, before starting their Championship campaign five days later against Derbyshire at Edgbaston.