Old Trafford: Lancashire ground renamed in Emirates deal
Last updated on .From the section Cricket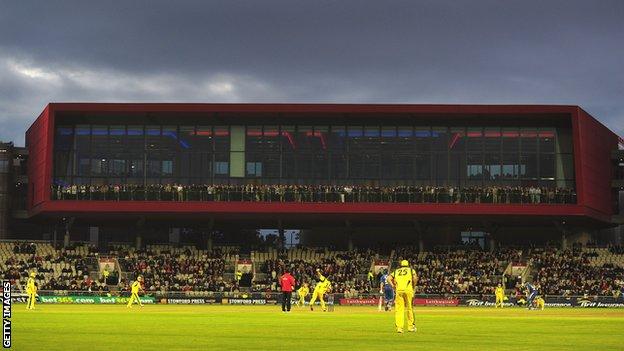 Lancashire's Old Trafford home has been renamed as part of a 10-year partnership with airline firm Emirates.
It will now be known as "Emirates Old Trafford", while the brand will also appear on Lancashire's Twenty20 kit as part of the deal announced on Thursday.
The ground will host the third Ashes Test between England and Australia in August - the first time it has staged a Test since 2010.
A multi-million pound redevelopment is due to be completed ahead of that game.
Commercial director Geoff Durbin would not reveal the exact figure of how much the deal would be worth to Lancashire, but said it would be a significant sum over a long-term period.
He told BBC Radio Manchester: "We always said that if we were going to do something like this, we would respect the heritage and the importance of having Old Trafford in any naming.
"Equally, we've got to look forward and I can assure you that there will be far more congratulatory and envious eyes out there, particularly amongst other cricket clubs, than critical ones.
"It's something that a lot of other rights-holders are out trying to do and have failed. We've succeeded and are very proud and pleased that we've done so.
"We've got the future of the club sorted out, we've got the facilities of the new stadium, and this is an important additional financial injection.
"It ultimately means we can do what we want to do with cricket. We want the most successful team out there and this will certainly help in that direction."
Emirates have been an official partner of the International Cricket Council for more than a decade and have been keen to extend their relationship with the game.
Laurie Berryman, vice president of Emirates UK, told BBC North West Sport: "We've been flying from Manchester Airport for around 20 years.
"We've been looking for some time for an asset in the Manchester area to put our brand out there. Lancashire County Cricket Club is an iconic brand.
"Emirates sponsored the World Cup in 1999 [in England] and have been involved in cricket ever since then.
"The sport is covered very well in the UK, but also in the sub-continent, Australia, New Zealand and a number of other areas that we fly to."