Tom Maynard inquest: Surrey chief executive shocked
Last updated on .From the section Cricket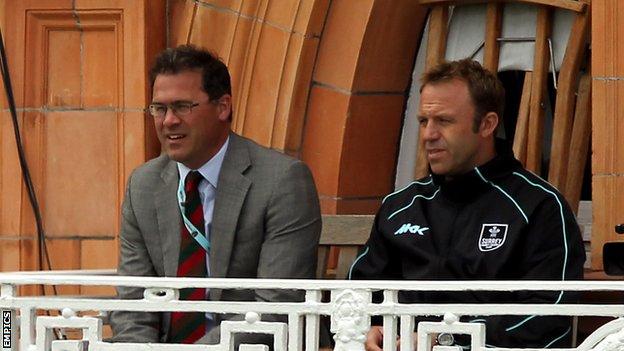 Surrey chief executive Richard Gould says the extent of Tom Maynard's drug-taking came as a shock to the club.
Gould told BBC Surrey: "We had some prior warning through the police investigation, but the extent of Tom's drug-taking came as a great shock.
"There was no sign prior to his death that he had been taking drugs and we only wish we had known earlier. We may have been able to help him."
The 23-year-old died on 18 June last year after he was struck by a District line train.
A post-mortem examination showed Maynard was drunk and high on drugs at the time of his death.
Gould added: "I agree with the Maynard family statement that the manner of his death doesn't define him.
"He was a pleasant and likeable man with great sporting talent and he was a popular figure amongst Surrey members and supporters because he gave his all."
Gould conducted a comprehensive internal review at Surrey following Maynard's death, with insight from board members Lord Grabiner and Robert Elliott.
"Every employer has a duty of care towards its staff. It's one we take very seriously," he explained.
"The difficulty is knowing what your employees get up to and what they are doing when they are not within the workplace.
"We have continued to investigate within the club and at the inquest players and friends were asked if they were aware of his drug-taking.
"They were not aware of it and with that in mind, if those closest to him were not aware it is difficult to understand how others within the club could know of his drug-taking."
Gould has backed plans by the England & Wales Cricket Board and the Professional Cricketers' Association to introduce more stringent tests for the use of recreational drugs.
"There is a programme in cricket but Tom's problem was not picked up, although the evidence of the coroner suggested he may have been taking cocaine for two or three months," said Gould.
"There is obviously a weakness there and the coroner's conclusion, report and recommendation is that any improvement in drugs tests includes hair sampling or other such methods which allow you to look at a more recent history.
"We have been working very hard to strengthen the ways in which we can keep our players safe. That is our primary intention."
Meanwhile, Gould hopes that senior players at the Oval will continue to provide positive role models for their younger professionals.
"The role of senior players within a team as role models is extremely important," he said.
"We have got a lot of talented young players at Surrey and we want to see them be able to use their talents to their best and keep them safe.
"With the recruitment of late, bringing in Graeme Smith and Ricky Ponting, we could not have hoped to have brought in two better role models.
"We hope they play their part, as we all have to do, to keep our players safe and that Surrey can go from strength to strength."