NZ-England: James Anderson & Steven Finn can secure series win

By Alec Stewart
Ex-England captain & Test Match Special summariser
Last updated on .From the section Cricket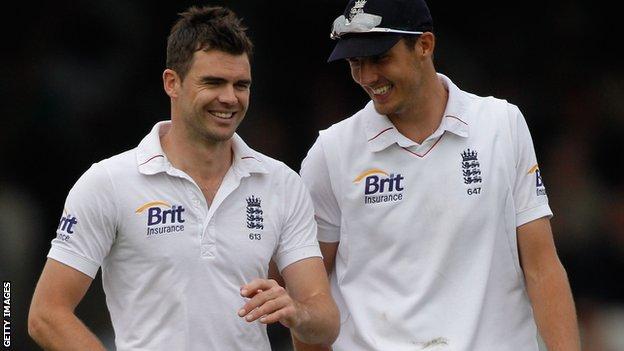 England will start their three-match Test series in New Zealand as firm favourites and I expect both Steven Finn and James Anderson to have a huge bearing on the result.
Anderson took seven wickets in the three one-day internationals, and in doing so became England's leading wicket-taker in all formats of the game surpassing the great Sir Ian Botham, and Finn weighed in with five.
They certainly set the tone with their new-ball bowling and I expect similar performances in the five-day format from this duo.
I am interested to see if Finn continues to bowl off his shorter run-up - which has been developed in part to combat his problem of clipping the stumps with his knee in his delivery stride - because he bowled particularly well in the third one-day international in Auckland when he took 3-27.
The Middlesex bowler was able to generate extra pace, maintained great control and appeared very confident in his new action.
The 23-year-old has certainly got that X factor about him now - he's 6ft 7ins, bowls in excess of 90mph and can cause huge problems for any batsman on any surface in the world.
Throw in Anderson's unbelievable skills with the ball and you have a formidable opening attack.
It was good to see Ian Bell and Matt Prior scoring runs against the New Zealand XI last week, but I never read too much into performances in warm-up matches.
In an ideal world, Nick Compton, Jonathan Trott and Kevin Pietersen would have spent more time at the crease but they won't be overly concerned.
KP reminds me very much of Mark Butcher when he played in these sort of games in the fact that both players have fairly modest records in warm-up matches, but then turn it on for Test matches.
I expect England, man for man, will be too strong for New Zealand but I doubt it will be a straightforward 3-0 whitewash. New Zealand are a proud sporting nation with a history of sporting excellence and one of their qualities is their fighting, never-say-die attitude.
They have continually excelled as a rugby union nation, while in cricket they have produced world-class cricketers and highly competitive teams.
At times they have had the better of England in Test cricket - they beat us in 1983-84, 1986 and 1999 - and they also won a series against the great West Indies side in 1979-80.
This New Zealand side will want to impress but I don't think they have the strength in depth - especially if they suffer injuries or a loss of form to one or two players.
To remain competitive, and continue to improve in the future, they need to make sure they get their infrastructure as strong as it can possibly be in terms of their domestic game.
The finances also have to be in order to make sure that the priority is always to play for New Zealand, and not to go off and play in the Indian Premier League and other Twenty20 tournaments around the world.
I can virtually guarantee that none of the England players will be thinking as far ahead as the summer's Ashes series, heading into this match.
It is four months until the battles against Australia begin and a lot can happen before then, so it's imperative they respect their current opponents and do everything possible to beat them.
The England players will know that good performances and a run of victories will be the best preparation for the Ashes, and they will be concentrating on the here and now to make sure that happens and to ensure they will all be very much a part of it.