Matt Prior: From England scapegoat to standard-bearer
By Sam Sheringham
BBC Sport
Last updated on .From the section Cricket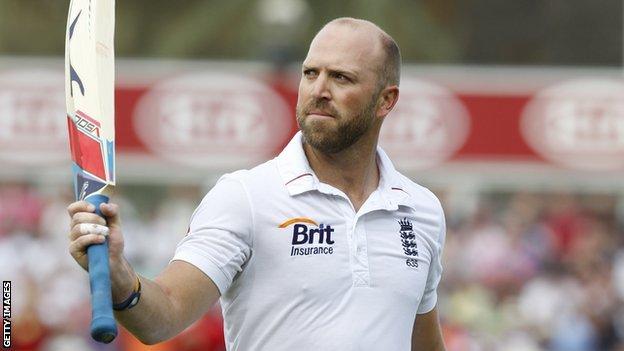 Matt Prior has got the hump. Not only has his lunch been delayed by a BBC interview, a heavy snowfall has forced him to call off his daily cycle ride on the South Downs.
Prior, 31, is a self-confessed cycling addict. Inspired by the feats of Bradley Wiggins and co at the Tour de France and London Olympics, he took to the saddle last autumn and is rarely off it unless the inconvenience of keeping wicket for England gets in the way.
Joking aside, the man who is now widely regarded as the best wicketkeeper/batsman in Test cricket believes his hours on the road have been hugely beneficial to his day job.
"As I started doing it, I realised that the position you are in on the bike is near enough the same as the keeping position," says Prior, who will win his 63rd England Test cap when the series-opener against New Zealand begins in Dunedin on Tuesday evening UK time.
"But it's not just the position and the physical side of things, there is the mental side as well - testing yourself out, putting yourself under pressure, asking yourself questions.
"There are a number of times you will be on a climb and you will think 'what am I doing here, why am I doing this?' You have to answer those same questions when times get tough on the cricket pitch."
Prior's attitude to cycling, which has also helped him to remedy an Achilles problem, is characteristic of a cricketer who has spent the last five years exploring every possible way to improve his game after a troublesome start to his international career.
The South Africa-born Sussex right-hander, who moved to the UK at the age of 11, signed on in fairytale fashion with an unbeaten century against West Indies on his Test debut at Lord's in May 2007.
But as errors in his glovework became increasingly commonplace, he emerged as the favourite scapegoat of the English press, who interpreted his diamond ear stud and general loudness as symptoms of a brash and thuggish personality.
When a schoolboy prank involving jelly beans riled Indian paceman Zaheer Khan so much that he ripped through the England batting order at Trent Bridge, only one man was ever going to get the blame.
"I got chewed up and spat out at that point and found it quite harsh," says Prior. "A lot of stuff that was written about me was written by people I have never met and still to this day have never met. I'd like to meet a few of them but never once have they come and introduced themselves.
"I took a lot of it with a pinch of salt but the jelly bean thing was ridiculous. It was frustrating because I wasn't involved in it but I took all the flak."
An innocent party in 'Jellygate' he may have been, but Prior was dropped from the Test side at the end of 2007 following an error-strewn tour of Sri Lanka, prompting a period of introspection.
"I seriously contemplated not keeping wicket again," he admits. "I knew I could score runs in international cricket but it was always the keeping that was letting me down.
"So I thought, why don't I put this to one side and focus on being a batter? I looked for advice from people I trusted and it was [former England keeper/batsman] Alec Stewart who convinced me to give it one last crack.
"He made me realise that maybe I hadn't worked as hard as I should have done on my wicketkeeping.
"If I'm being honest with you, when I made my debut I was never an international wicketkeeper, I hadn't earned it, I hadn't done the work. It was just reflexes and hand-eye coordination. There was no technique to it because I hadn't trained it.
"Then I made the decision to carry on and put those hard yards in and it's made a big difference."
Prior was placed under the tutelage of England wicketkeeping coach Bruce French, a highly skilled gloveman whose limitations as a batsman probably explains his relatively modest haul of 18 Test caps.
"Frenchie is like my dad," explains Prior. "We have a very, very close relationship and he pushes me harder that anyone has pushed me.
"He makes me do things that I hate doing on the training ground and think I would never be able to do, and within a week's practice I am able to do it. Then once I've done it he'll have some other silly drill that seems nigh on impossible but after one or two weeks suddenly I'm catching it.
"He will never let me sit still. I owe a huge amount to Frenchie and he is one of the big reasons I've been able to turn my career around."
And what a turnaround it has been. Recalled to the Test side in December 2008, Prior starred with bat and gloves in England's back-to-back Ashes triumphs in 2009 and 2010-11, helping clinch the series Down Under with a century in Sydney.
Later that year, he scored 271 runs at 67.75 as England trounced India 4-0 to march to the top of the Test rankings.
During England's historic 2-1 victory in the return series before Christmas, Prior showed what an adaptable cricketer he has become. Naturally an aggressor with the bat, he grafted patiently for 91 from 225 balls in Ahmedabad as he and Alastair Cook set about shifting the momentum of the series after a disastrous start.
Behind the stumps, he was a constant source of positive energy despite having to stand up to the spin of Monty Panesar and Graeme Swann for hours on end, in sapping heat on brutally turning pitches.
"The wicketkeeper is the engine room of the team, the drummer of the band," says Prior. "You give a lot of yourself and leave a lot out there. But you are playing for England, why would you walk off the pitch with anything left?"
Prior's performances have given him a better Test batting average (43.19) than any of his England keeping predecessors, while his total of 186 dismissals puts him fourth on the all-time list, 83 behind Alan Knott.
But the one blot on his England copybook has been his inability to hold down a place in the one-day or Twenty20 sides. Often miscast as a pinch-hitter, he averages only 24.18 from 68 one-dayers at a strike rate of 76.76.
Prior last played a one-day international at the World Cup in March 2011 and senses that his omission for the New Zealand series, even after Craig Kieswetter had been dropped, may spell the end of the road.
"I never give up on it," he says. "You just keep playing and keep knocking on the door and we'll see what happens. But part of me does think that if I was going to play one-day international cricket again I would have done so by now.
"Having said that, you do have to look at the bigger picture. This does give me an opportunity to get over injuries and go into every Test series firing on all cylinders."
Life as a Test specialist should keep Prior busy enough in 2013 with England facing New Zealand away and at home before 10 Ashes Tests between July and January.
By then, if all goes to plan, Prior will be closing in on Knott's dismissals record and be part of the first England side since 1887 to have won four Ashes series in a row. As good a time as any to hang up the gloves?
"It was a dark day in the winter when I was described as a veteran and now I'm being asked what the future holds," Prior laughs.
"I want to play for England for as long as I possibly can. I have lots of dreams that hopefully could come true and they all involve me playing for quite a while yet."
When he does retire from cricket, Prior will no doubt devote even more time to his bike, hammering the hills of southern England. But having recently had first-hand experience of the phenomenal capabilities of Wiggins and his team-mates, he is realistic enough to rule out a full-time switch of sports.
"I was fortunate enough to spend three days with Team Sky out in Majorca," he explains.
"We all did a 10km climb called Sa Calobra. They did it in 23 minutes but it took me 46. While I was doing it I was cursing them, thinking 'how do they do this?'"