NZ v England: Andy Flower wants tourists to be 'sharper'
Last updated on .From the section Cricket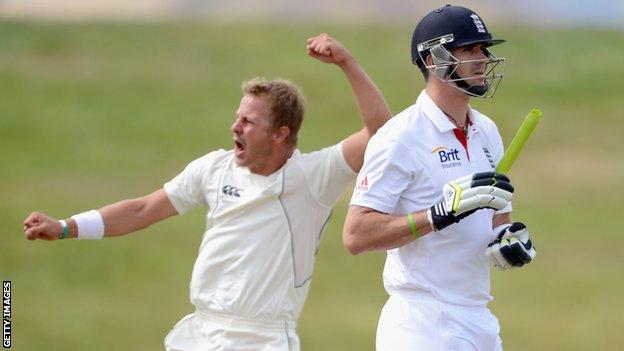 Andy Flower wants England to sharpen up after being "sloppy" and suffering from some "soft dismissals" in their defeat to a New Zealand XI in Queenstown.
The coach was disappointed with aspects of his side's performance in their three-wicket defeat ahead of the first Test starting on Tuesday [2130 GMT].
"It was a timely lesson that if you are slightly off your game you can lose to both Test and 'A' sides," he said.
"I hope to see us a lot sharper for the first Test."
Ian Bell's century helped England post 426 all out in their first innings but the tourists' bowlers struggled as New Zealand replied with 349-7 declared.
It took a belligerent half-century from Matt Prior to save England's blushes in their second innings before the Kiwis chased down 334 on the final day.
"It was an excellent game of cricket, but it was not ideal losing it," said Flower. "Some of the young New Zealand players played really well and I thought we were sloppy in some areas - poor with the ball in the first innings and there were a couple of soft dismissals.
"Bell and Prior batted beautifully, which augers well for the Test series, and we got better with the ball in the second innings, which was nice to see. There is a little rustiness that we have to work through.
"One warm-up game isn't ideal, but it is what we have been given. Our guys have been on the road for almost four months now - those who have played all three forms of the game - and you cannot play constantly for 12 months.
"Sometimes the preparation schedules are not going to be perfect, so part of the skill of being an international sportsperson is being able to adapt where necessary."
Some pundits have suggested the emergence of Joe Root might see the Yorkshire batsman replace Nick Compton at the top of the order with Jonny Bairstow slotting in at number six.
Compton managed a combined total of 22 runs in the warm-up match in Queenstown, but Flower hinted the Somerset batsman deserves a longer stay in the team based on his performances in India before Christmas when he scored 208 runs in the four Test matches.
"Nick did some excellent things in India," said Flower. "He had some difficult conditions to deal with, like opening against spin on turning pitches and the pressure of playing in India in front of big crowds.
"I thought he handled himself really well over there, and in the warm-up match here he got 20 in the first innings when the ball was darting around.
"Let's see how he goes in the future because I think he is a strong young man with a solid technique."
England will play three back-to-back matches in New Zealand and two of their bowlers - Stuart Broad and Graeme Swann - have been struggling with injury in the last few months.
Broad, in particular, is a concern after it was revealed he could be forced to play for the rest of his career with the pain of a persistent heel injury.
However, Flower is confident that both men will be ready to face the Kiwis in Dunedin.
"Bowling is a tough profession and the pressures which are put on the body are extreme," said Flower. "But Stuart's heel has responded really well to the treatment that he has had, the rest he has been given and he came through the last four-day game really well.
"He got better and better with the ball and looked in much better rhythm towards the end of the fourth day. We are hopeful that the heel problem he has had will, with consistent treatment, disappear in time.
"Graeme had serious problems with his bowling elbow four years ago and he had a successful operation. Since then, he has constantly had to bowl with little niggles in that area and he has always managed it well. We hope he will be fully fit for the first Test too."