Stormont to host World Cup qualifiers and Australia A game
Last updated on .From the section Cricket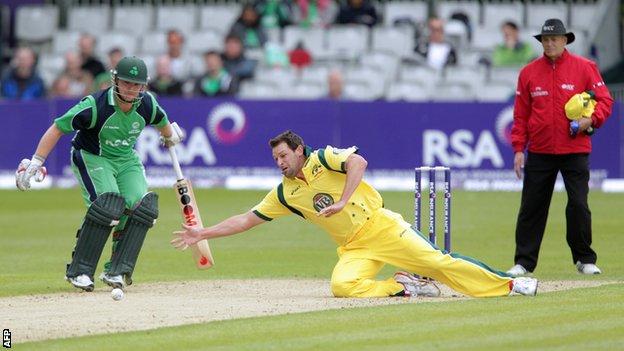 Stormont is to stage Ireland's final round of World Cup qualifiers against Scotland on 6 and 8 September.
Ireland top the World Cricket League table after four rounds with the Scots second - the top two will qualify automatically for the 2015 World Cup.
"We've been to the final stages of five world tournaments and we aim to make it seven," said Irish coach Phil Simmons.
The Belfast venue will also host the touring Australian A side in a four-day game from 14 June.
The match will give the Australian players practice in European conditions ahead of the Ashes campaign.
Ireland play their fifth round of qualifying matches this month against the UAE in Sharjah before taking on the Netherlands in July.
The team's other games against Test-playing nations will see William Porterfield's men facing Pakistan in an ODI series at Clontarf in May.
The blue-riband game of the year features England at the new ODI venue in Malahide on 3 September.
Bangladesh may also repeat last year's visit to Ireland, Scotland and the Netherlands with Bready, the new home of major cricket in the North West, penned in to hold the Irish matches.
"It's another incredibly important year for Irish cricket as we attempt to make it to the World Cup finals and also defend our ICC World Twenty20 qualifiers trophy in November," added Simmons.
"It's fantastic that we've got the high profile matches on home soil against Pakistan and England, and we hope to get another series against Bangladesh in August as well.
"There's also an extensive programme of interprovincial cricket - all these fixtures will give myself and the selectors a good indication of the talent coming through below senior international level.
"It's a great shop window for the players, and I'm sure it will prove a great success in strengthening Irish cricket."