New Zealand v England: Dire display down to poor preparation

By Jonathan Agnew
BBC cricket correspondent
Last updated on .From the section Cricket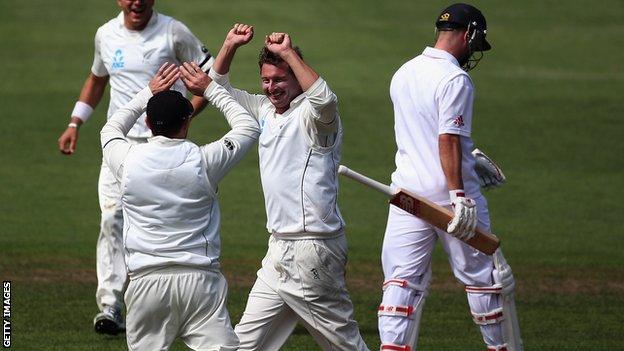 England's performance against New Zealand in Dunedin was the worst opening day of a first Test I can remember, frankly.
Given the gulf in form between the two teams and New Zealand's various off-the-field incidents - which you would think would have an unsettling effect - there were so many factors suggesting England would win quite comfortably.
I would imagine England will be absolutely devastated at the way they performed.
But they only have themselves to blame. They are going to be very honest with themselves - I suspect they will be because there's no possible excuse. They are going to have to accept the fact they had an absolutely appalling day.
Unfortunately this has become something of a pattern. There is no hiding from the fact that the amount and quality of England's preparation has to be questioned.
It's the fourth time in a row that England have been bowled out for less than 200 in their first innings of an overseas series - that cannot now be a coincidence.
That suggests there is something wrong with their preparation. In the last 13 tours they have lost nine of their series openers and have only beaten Bangladesh.
This is a worrying pattern and something the ECB must observe.
The best preparation they had was in Australia in 2010-11. The spirit they mustered helped them save that first Test in Brisbane. Here, they might dig themselves out of a hole and they are lucky that day one was washed out.
Alastair Cook told me the day before the game that they were not going to take things for granted and they were not complacent. He said all the right things but how can you explain what happened today?
It wasn't a question of being got out - the whole approach was wrong. No matter who you are playing against you can't go into a Test match with the preparation England have had.
They have only had one four-day game going into this match, in which they didn't play either Steven Finn or James Anderson - and Nick Compton and Kevin Pietersen both failed.
They should have had two three-day games so they could have given Finn and Anderson an outing.
They could have played their strongest team in the first of those games. If a batsman failed in the opening match, they could have given him another chance in the second.
The New Zealand attack is honest - it didn't suddenly step up umpteen notches from where they have been.
Bruce Martin, who took 4-43, was massively flattered. The shots played against him were dire - he didn't actually get one person out and ended up with four-for. They should not be bowling England out for 167.
What happened here will have no reflection on the forthcoming Ashes but you expect a team like England not to have a day like this. It was the manner of the performance which is so disappointing. Their batting was wretched.
They will know it - they're professional cricketers. But I hope it brings this point of preparation to a head, that it isn't just Ashes tours which require two or three practice matches.
England have got to do everything better on day three. You hope they will take a deep breath, because sometimes when you come and bowl after being bundled out like that you do strain a bit and you are searching for wickets.
They must simply start again. That's what they are going to have to do to keep New Zealand's lead down to as little as possible.