New Zealand v England: Michael Vaughan criticises tourists' attitude
Last updated on .From the section Cricket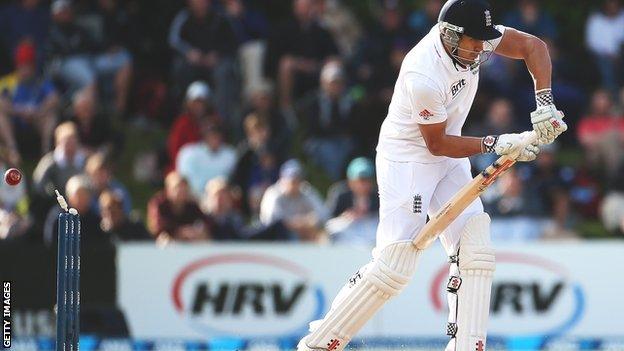 Former captain Michael Vaughan says England are guilty of over-confidence in their dismal start to the Test series against New Zealand in Dunedin.
England were before the Black Caps reached 131-0 at stumps on day two of the opening Test.
"England didn't respect the game," said Vaughan on Test Match Special. "They took the mickey out of Mr Cricket.
"England's mindset has been over-confident; they weren't prepared to do the hard yards."
After a first-day washout, England were dismissed in two sessions on the second day, with several batsmen falling to reckless shots.
It is the fourth time in a row they have been bowled out for less than 200 in the first innings of the opening Test of a tour.
They also appear unlikely to buck a trend that has seen them win the opening Test of an overseas series just once - against Bangladesh - in the last 13 attempts.
"All England had to do was respect, do the basics and see off the new ball to lay the foundations," added Vaughan, who captained England in 51 of his 82 Tests.
"We saw them do that in India (before Christmas) but the majority of the batting order - and it was the majority, not one or two - didn't turn up.
"For whatever reason, England didn't have the right mindset when they batted. They have got to win every single session tomorrow and they have got to win them well."
Former England opener Geoffrey Boycott said England were under-prepared for the series after playing only one one first-class warm-up match - a three-wicket defeat to a New Zealand XI in Queenstown.
"You need better preparation," said Boycott. "I hope someone tells managing director Hugh Morris, who is probably sleeping back in England, when he wakes up that we're talking about the poor preparation.
"England were sloppy, careless, and I feel there's almost a holiday atmosphere.
"Stats don't lie. They don't tell you everything but they tell you something. There's no shame in changing something if it's not working.
"If it keeps happening and they cock up with the batting, then they will have to keep chasing. You don't want to be chasing all the time."
Jonathan Trott, who top-scored for England with 45 before becoming one of four victims for debutant left-arm spinner Bruce Martin, admitted England were "really disappointed" with their batting display on a largely blameless pitch.
"I don't think there will be too much music played and jumping up and down," he said.
"You don't envisage that on the first day of the series. Everyone got out in soft fashion.
"But we can't mope. We need to come tomorrow and bowl them out. They did it to us; we can do it to them.
"We weren't good enough today, but there is a lot more cricket left in the series and especially this game."