New Zealand v England: Tourists frustrated on testing third day

By Jonathan Agnew
BBC cricket correspondent
Last updated on .From the section Cricket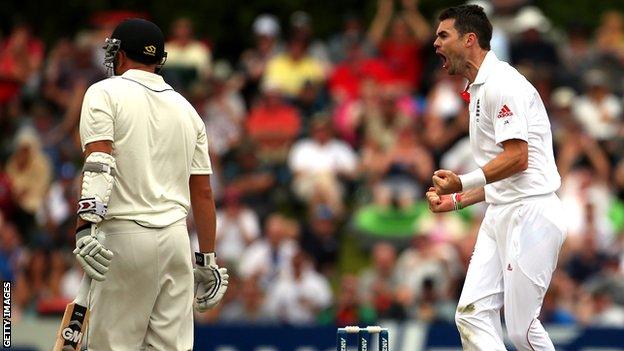 Frustration is still the prevalent mood in the England camp after an expensive bowling display on the third day of the first Test in New Zealand.
Following a poor batting display on the second day in Dunedin, they conceded 271 runs in 66 overs to a New Zealand side which pressed on as the game moved at a remarkable rate. And that is not good news for England.
They have got an awful lot of batting to do if they are to avoid defeat. Behind by 235 and play starting half an hour earlier on the fourth and fifth days, they are absolutely up against it.
With a day and most of a session lost to weather, it underlines how poorly England have played. They are still in a position to lose the match and that remains the the most likely outcome.
They are frustrated, angry and disappointed with their performance.
James Anderson bowled well to take four wickets but the send-off he gave Ross Taylor was entirely unnecessary and it betrayed the way England are feeling.
I am glad Stuart Broad took a couple of wickets because there is nothing worse as a bowler than constantly searching for wickets. He could have had a couple earlier on, so he will be a little happier.
Steven Finn, bowling off his short run for the first time in a Test, has produced some dangerous balls but also bowled inconsistently. In fact, England have been inconsistent in everything they have done - even Anderson and Broad.
New Zealand have batted ruthlessly, particularly Hamish Rutherford, who took any scoring opportunity he had in making 171. It was a fine innings for someone making his debut and there was no trace or hint of nerves. He looked like a seasoned performer.
His innings is among the best I have seen on Test debut - not simply because of the runs he scored, but the way he made them.
Monty Panesar found a good ball to bowl Kane Williamson but he is clearly rusty. It is not his fault because he has not bowled properly in a match since before Christmas and it shows when you bowl one bad ball per over.
I feel sorry for Panesar because he needs more time in the middle. You cannot simply come into a Test two months after your last game; it is simply not fair.
Rather ominously, he made one ball really spit, turn and bounce. That is not a good sign for England.
Bruce Martin is nowhere near Monty's league, but when you are bowling with a big lead behind you, and men around the bat, then any reasonable left arm spinner is going to be dangerous. New Zealand will be rubbing their hands.
England can expect Brendon McCullum to play positively on the fourth morning. They have time to bat; the question is how long.
The trouble is if England bowl them out early, they have got longer to bat, which might not be a good thing either.
Any way you look at it, England will be hard pressed not to lose this game.