Michael Vaughan Q&A: England in New Zealand
Last updated on .From the section Cricket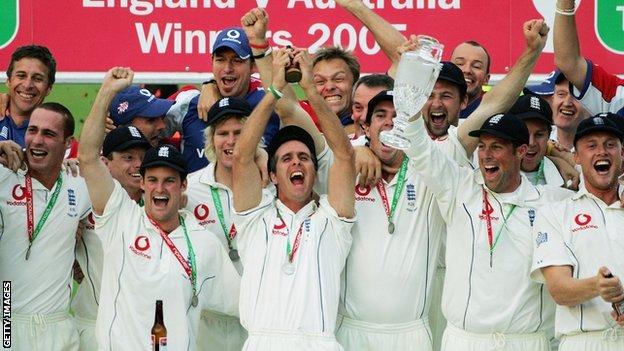 We asked you to send in some questions for Test Match Special analyst Michael Vaughan to tackle during the first Test between New Zealand and England in Dunedin.
Here are the former England captain's answers on a range of issues, including taking on Glenn McGrath in the 2002-03 Ashes, which England cricketer might win Strictly and the most challenging player he captained:
Prior to this Test, if you had been asked to choose an England/New Zealand XI, would any of the New Zealand squad have been in it? Jonathan in Yorkshire
Before the Test, absolutely not. That's not being disrespectful; England are an outstanding team. Ross Taylor or Brendon McCullum, you might chance at number six ahead of Joe Root. They can be very damaging. Other than that, not at all.
Do you think England will win both Ashes series easily? Shankar Ranjani
You don't ever win an Ashes series easily; you win some more comfortably than others. In the Australia side, only Clarke worries me in the top seven. But things can change quickly in cricket and any team can beat anyone if your mindset is not right. I think England will win at home - and it will be comfortable: 2-0, 3-0 or 3-1. But the Aussie team could be dangerous at home.
Do you ex-playing commentators give advice to current players on tactics during a series? You have a great deal of ideas during a game but are they communicated to players during a match? Paul Singer
I try to keep my distance but of course I would give my opinion if Alastair Cook came up to me and asked me a question. But I would never approach them and say 'why are you doing this?'. I think it's wrong to know titbits from the dressing room and then discuss them on-air. When I see the players I try to talk about anything other than cricket.
You must have met hundreds of cricketers, but which one left you starstruck after you met them? Tony Grenall
Shane Warne. He's the greatest and the one, where if I'm asked to pick my all-time team, would the number one player in. He brought razzmatazz on and off the pitch. He is a superstar.
With the advent of different teams for different types of cricket, what do you think about limiting the weight/thickness of bats for Test cricket to re-introduce a higher standard of skill against brute strength? Bill, Kent
Look at Rutherford in this match - it's brilliant to watch. With technology, it's very similar to the golf club. Mike Atherton gave me his last ever bat, and my last ever bat is three times as thick. Bats are so big and so thick, and it's great for the game, with the ball flying out of the ground. You should hit more boundaries today, but there's still a lot of skill.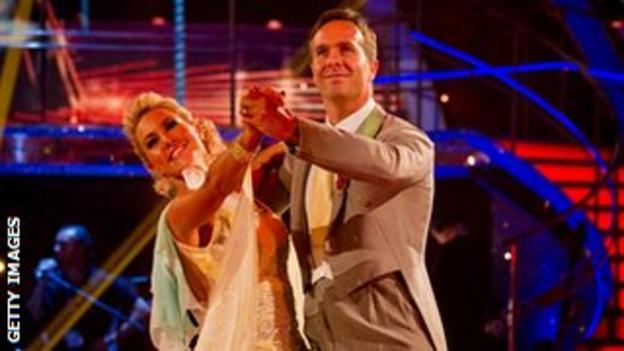 What's more nerve-wracking? Strictly Come Dancing or facing Shane Warne in Sydney? Colin Mehigan
When Warnie came on I'd generally have a few. You talk about not sleeping before an Ashes Test, but you've played cricket since you were eight - you're in control. Walking down the steps of Strictly is the most nerve-wracking thing I've ever done.
I'd like to know who Michael thinks will be the next cricketer to win Strictly. Any contenders in the current squad? Fiona in West Didsbury
I think it's going to be difficult for a cricketer to win it now - it's become a dance competition! It used to be a comedy show not a dance competition. Graeme Swann - he will be doing Strictly in a few years.
For atmosphere and aura which is your favourite Test match venue? Tristan Peck
For the aura, the history, the heritage it brings - Lord's. I've got a place in London now and I walk into Lord's on a November afternoon through the gates and I still get the hairs sticking up on the back of my neck. There's no cricket happening but it stills gets me.
Are England's players underpaid? Erica Crawford
England's players are well paid, but all the other players in the world have a chance to play in the IPL, with all the million-dollar contracts. England's players don't. I would be hard done to if I couldn't get the chance to earn life-changing amounts of money. England's players deserve to be well paid rewarded because they've had a wonderful period.
As a Chance to shine coach and a coach at my club, I always talk to youngsters about the spirit of cricket. I include in this that all batsman should walk if they know they have snicked the ball and have been caught behind. If they don't a) I feel they are going against the sprit of cricket and b) it can spoil an otherwise good game of cricket. What are Michael's views on this? Richard Cridge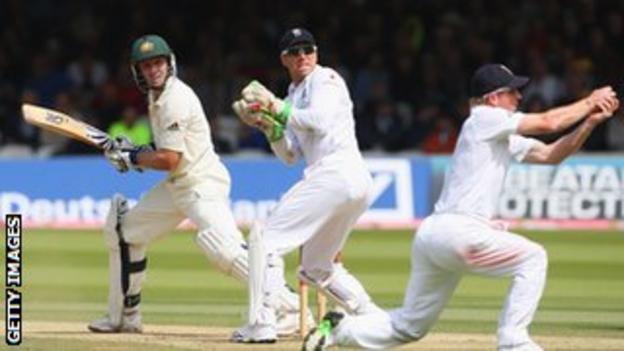 In an ideal world, you'd love it everyone walked. It's very easy to say to all the kids, but you become more cynical the longer you play the game,. You do get the odd bad decision, you do get sawn off. It's down to the individual, but my opinion is it's the umpire's decision. I'd wait for the umpire to give you out if you've hit it.
Since Paul Collingwood retired, we seem to have lost just a little bit in the field. Almost as if he lifted everybody else's standards. He was worth far more than his stats. Am I wrong? Ashley Barnes
Any player of the stature of Paul Collingwood, with the energy he brings in the field and the expertise and thought process he brings to the dressing room, you are going to miss them. But look at what England have done since. They have played good cricket and won in India for god knows how many years.
You are always going to miss the likes of Paul Collingwood, or Andrew Strauss or Freddie Flintoff, but time moves on and players are always eventually replaced.
Your pull shots and cover driving against Glenn McGrath in the Ashes tour of 2002/03 stand as my favourite shots played by any England batsman. How do you describe your frame of mind in that golden period of your career, and do you think that freedom and fluency was something that you had to sacrifice for the responsibilities of leadership? Graham Edgar
My favourite shot was the cover drive and that was kind of the reason why I started playing the pull shot because I wanted to go on the front foot. It was quite natural because I pressed forward on the front foot and had a trigger movement. It allowed me to play the cover drive and the pull shot more.
When I started at Yorkshire I was a bit timid and didn't want to get out. Then Darren Lehmann arrived and gave the confidence to play more shots. He said 'you've got them in your locker so go out and play them'.
I studied Glenn McGrath and my game plan was if you're going to cut it against the great players then you have to attack the great players.
Who was the most challenging person to get the best out of when you were England captain? Simon Gartshore in London
You have to understand every single player in your team. I wanted to know everything about the player - and what motivated them. I had to spend more time managing some like Freddie Flintoff. We had some wonderful cricketers and different characters. But I didn't want 11 clones. You always need someone to release the pressure.
Why does being captain affect a player's form? Simon
A captain always tends to start well. Then more baggage arrives over the years and you have more to think about. I just hope Alastair Cook keeps his freshness because he has started so well. Andrew Strauss's form dipped and my form dipped.