New Zealand v England: Tourists still favourites to win Test series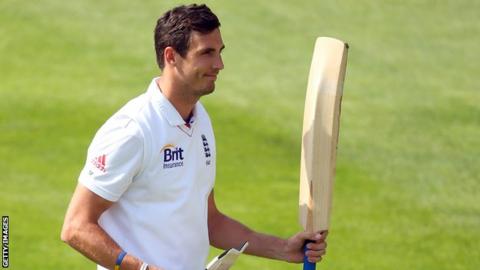 New Zealand came out on top in the drawn first Test, but that will count for little when the second Test gets under way.
I do not think the hosts will take the momentum into Wednesday's second Test in Wellington because England will look to start in the right fashion.
Although England were denied the possible psychological opportunity of asking New Zealand to bat again on the final day in Dunedin, they deserved a draw for their second-innings fightback.
The pitch certainly helped them to save the game. Nightwatchman Steven Finn batting almost five hours illustrated how benign it was and how hard it would be for New Zealand to remove frontline batsmen determined to make amends for giving away their wickets in the first innings.
But that is not taking anything away from Finn; he applied himself superbly and did a fine job to earn his highest Test score.
There are a number of positives which England will take to Wellington. The selection of opener Nick Compton, after his maiden Test century, is not a talking point any longer and hopefully he will feel liberated.
Captain Alastair Cook's continued good form - he made a fine second-innings 117 - and Jonathan Trott's 97 runs in the game were also positives.
These were all marred by the attitude shown by the batsmen in the first innings. That they were bowled out was not disappointing; it was the dreadful way they went about their innings and how many batsmen threw their wickets away.
These things do happen but, that is no bad thing - as long as you learn from it. I do not expect it to happen again.
England's only problem is Kevin Pietersen.
He looked like he had not batted for a while, which he has not, but he is the sort of player who can suddenly start flowing.
We always seem to be worrying about Pietersen but he can look after himself. He will keep spending time in the nets and working hard at his game.
On a good Dunedin pitch, he was constantly playing across the line. He must play straight. Once he gets bat on ball regularly, it is like a light switch with these great players - suddenly everything clicks and away they go.
I think England will pick the same team in Wellington. With off-spinner Graeme Swann out of the series, England might be more inclined to play four quick bowlers - rather than three seamers and a spinner - if the pitch has grass and looks like offering bounce.
England will still be favourites to win the game, but they will have to play better than they did in Dunedin.