Alec Stewart column: Tough action may help Australia's Ashes hopes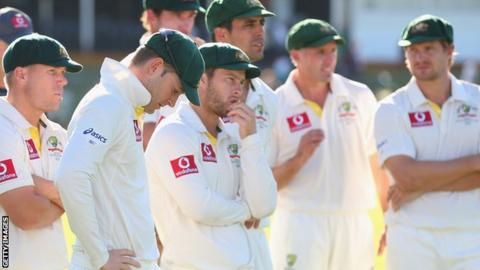 Australia's decision to drop four players just four months ahead of the next Ashes series could be viewed as a huge positive for England.
Yet the absence of vice-captain Shane Watson, Mitchell Johnson, James Pattinson and Usman Khawaja from the squad to play India in the third Test in Mohali may well galvanise the Aussies and make them an even tighter unit by the time they travel to England this summer.
The Australian management decided to get tough after the quartet failed to make a presentation detailing how they could improve their own individual and team performances following back-to-back Test defeats in India.
Captain Michael Clarke has now made it known publicly that this is not a one-off breach of the team code of conduct, so you could argue that the strong line taken by team management is an understandable one.
It must never be forgotten that no individual is bigger than the team and for every action taken there is a consequence.
The initial reaction from many within the game was one of almost laughter, though, with comparisons quickly drawn between the axed quartet and a group of schoolboys being punished for forgetting to do their homework.
But Australia's management have taken this decision for a good reason, even though it could have a detrimental effect on the next Test match. In the long run, it could be viewed as the right decision for Australian cricket.
Australia coach Mickey Arthur is an impressive individual. As a coach, he has enjoyed success at international level. That success is, in part, down to the discipline he has instilled in his teams. Once you lose discipline, you effectively lose the respect of the dressing room.
The players who have been dropped might well think the punishment does not fit the crime. But, for the sake of perhaps an hour of their time, their choices mean they are now not playing in the next Test match.
Will the saga have a huge bearing on the Ashes?
I doubt it very much. It's a very harsh lesson to learn but I expect Australia to draw a line under what has happened and move on.
Neither should the current crisis in the Australian camp be used as an excuse should England retain the Ashes, which I expect them to do despite a very mixed performance in the first Test against New Zealand.
I cannot remember so many soft England dismissals than in the first innings in Dunedin. It was as bad a batting performance as I can remember from what is a very good England team.
Fortunately, it did not prove too costly, but the display has prompted questions as to why England have acquired a habit of starting Test series abroad so slowly.
It is hard to put my finger on it, but I would have wanted two first-class warm-up games before the drawn first Test instead of just the one.
That way the players who did not perform in the first game would have had another opportunity to find some form before the opening Test. Unfortunately, today's international itineraries do not always allow for the perfect preparation.
Despite the display in the first Test, I still expect to see England win the three-match series against New Zealand.