Jimmy Adams believes Kent can be a county 'powerhouse'
Last updated on .From the section Cricket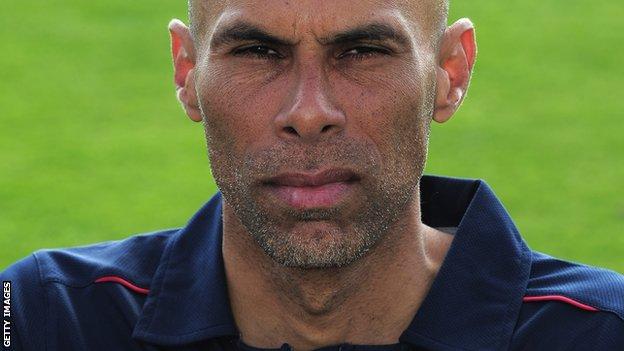 Kent coach Jimmy Adams says the county have everything required to become a "powerhouse" in English cricket.
Last season, Adams' first in charge, Kent finished third in Division Two and failed to make the knockout stages of either one-day competition.
But the former West Indies captain feels that the club are ready to push forward in the county game.
"We could be a potential powerhouse," he told BBC Radio Kent. "We have the facilities, the will and the players."
"We have short-term goals but I'm from a school where there has to be something bigger pushing you.
"When you start out as a kid, you ask what he dreams about and he'll say he wants to play international cricket.
"He might only be 11 and playing on a surface that doesn't resemble a first class one. But over a period of time he starts to align everything towards that vision, and it's no different here.
"The first thing is to believe that can happen."
Kent are yet to announce their financial report for the 2012 season, although they are expected to make a loss, due in part to the wet weather that plagued their county season.
This contrasts with the likes of Worcestershire and Derbyshire announcing profits from 2012, while Surrey have signed South African skipper Graeme Smith and Australian batsman Ricky Ponting.
But Adams feels the expected financial loss will not hold them back.
"Coming from a country where we have produced great players, with little resources, I focus on what we have rather than what we don't have," he commented.
"Kent have a facility that is decent, and a lot of talent here. Let's not lose sight of that vision that we want to become a powerhouse in English cricket."