Australia dropping four players over presentation 'baffles' Hoggard
Last updated on .From the section Cricket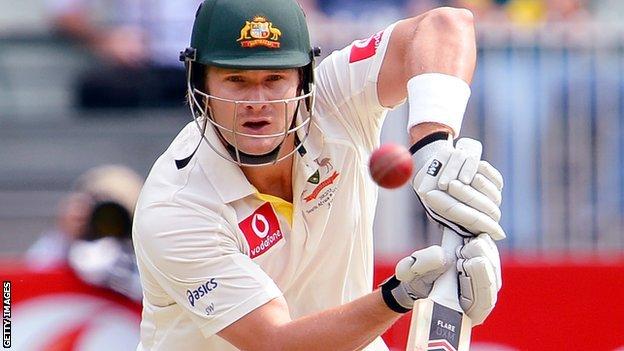 Former England bowler Matthew Hoggard has described Australia's decision to drop four players as "unbelievable".
The quartet, including vice-captain Shane Watson, were axed after failing to make a presentation detailing how they would improve the team after two heavy Test losses to India.
"To punish players for not being able to produce a PowerPoint presentation is baffling," Hoggard told BBC Sport.
"They just haven't done their homework and to punish them is ridiculous."
Talking about his decision to drop Watson, Mitchell Johnson, James Pattinson and Usman Khawaja, Australia coach Mickey Arthur said: "This is a line in the sand."
But Hoggard, 36, believes the quartet's failure to make a presentation should not have been a "disciplinary matter".
"They have not been out until four in the morning, they have not been jumping off ferries or putting hands through doors," said the Leicestershire captain, who took 248 Test wickets for England.
"I know Shane Watson and he is not the sharpest tool in the shed. Getting him to write things out and put them in front of the coach is not going to be his strong point."
Watson left the tour after the decision, although, with his wife pregnant, there was always a possibility he would depart early.
Australia, who play England in back-to-back Ashes series later in 2013, have endured a miserable time on their latest tour, suffering heavy defeats in the opening matches of the four-Test series in India.
They lost by eight wickets in Chennai in the opening Test and were beaten even more badly in the second Test, losing by an innings and 135 runs after being bowled out for only 131 in their second innings.
Bur rather than improve matters, Hoggard believes the decision will only have a negative effect on the team.
"Australia are in a transitional period," he said. "Their bowlers are very strong and will get wickets, it is the batting which is the weak point.
"To drop Shane Watson, who, along with Michael Clarke, is the most consistent batsman when he is fit, is baffling to me."
Former Australia batsman Damien Martyn believes the decision to drop the quartet is "very extreme".
"I agree there is a team discipline to be had and everyone has to toe the line," the 41-year-old, who played 67 Tests and 208 ODIs for Australia, told BBC World Service.
"But missing a Test match means the rest of the guys are sacrificed and they miss out on having the best side go out on the field and win a crucial Test match in this series.
"They maybe could fine them match payments or half a tour payment, but to miss a Test match is very extreme."