New Zealand v England: England must move quickly in second Test

By Jonathan Agnew
BBC cricket correspondent
Last updated on .From the section Cricket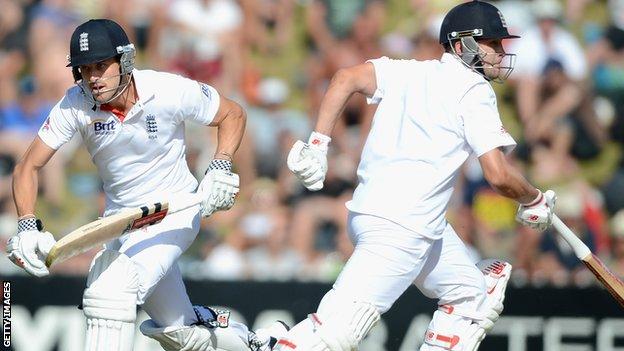 New Zealand's decision to put England in to bat in the second Test in Wellington proved to be a bad mistake after the tourists racked up 267-2 on the first day.
However, captain Brendon McCullum clearly had one eye on the weather forecast, as there is a serious threat of rain for the fourth and fifth days, prompting him to take the attacking option of putting England in.
It is not a very green pitch and there is not much movement but McCullum thinks the weather may shorten the game and the series.
I suspect England captain Alastair Cook was quite relieved that he lost the toss because he would not have wanted to give New Zealand the opportunity that England have taken.
In scoring 267 runs in 90 overs, England were accumulating rather than dominating but I expect them to take the attack to New Zealand on the second day.
I would like to see Jonathan Trott up his tempo because if the weather forecast is correct England will need to press ahead if they are to put New Zealand under any sort of pressure and go on to win the game.
The worry is that if this match is a draw, England may struggle to win the series in Auckland, where New Zealand are likely to prepare a very flat pitch in a bid to draw the series, which they would consider to be a good result.
Nick Compton batted much more fluently than he did in Dunedin. His maiden Test century has given him a lot of confidence, and that was reflected in the way he played.
It took fewer balls for him to reach his hundred this time - 224 as opposed to 259 in Dunedin - so that shows he scored a little more freely.
He drove through the off side with confidence, hit several impressive pull shots and looked a very good player.
In contrast, Cook's shot was an aberration. I have never seen him caught at mid-on before. It was a very strange dismissal, and I think he lost his balance.
Trott played as he always does: one-paced, batting perfectly for these conditions on the first day of a match to nail down the platform that England need.
Kevin Pietersen got through a tricky start and was looking reasonably good by the close. He played straighter than in Dunedin, looked pretty determined and has a chance to get stuck in and play a very positive innings tomorrow.
It looks to be a good batting pitch; it has more carry than in Dunedin. You do not want the ball going all over the place; you want the bowlers to have a little bit of help.
It was such a good batting day under blue skies that it is hard to judge the pitch.
One ball turned, but it looks to be a good Test pitch. It is early days and you can never really tell what a good score is until both teams have batted.
I think England will try to press on tomorrow, bat until tea time - perhaps a little more - and then stick New Zealand in.
They will want to whittle New Zealand out pretty quickly and then press on, because at the moment it does not look like this bad weather is going to miss.
If England are to get something out of this game, they are going to have to move fast.