New Zealand v England: Matt Prior helps England press ahead

By Jonathan Agnew
BBC cricket correspondent
Last updated on .From the section Cricket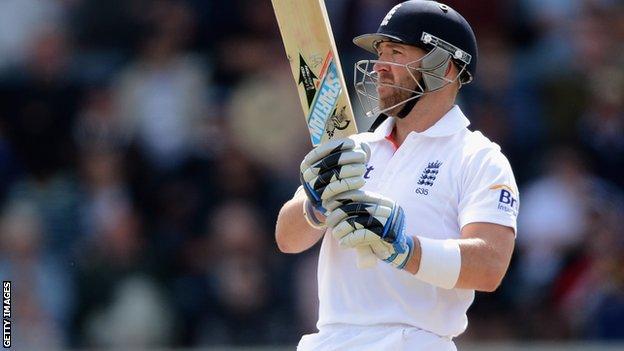 England clearly have the advantage after two days of the second Test.
It was the sort of innings we have seen Prior play many times. He was very strong through the off side, he hit hard and cleanly, and was generally very busy. His was the real bonus innings for England.
Ian Bell and Joe Root were both out playing poor shots. Bell often hits over the top well, but today he mistimed it. Root went too wide to the ball that dismissed him; it was not the length to drive and he will be kicking himself.
Kevin Pietersen played well. He was very patient but Bruce Martin, the left-arm spinner, bowled very well at him despite Pietersen hitting his first ball of the day for six.
Pietersen has an issue with left-arm spinners, and he is now at the stage where he wants to show he can dominate them. That, unfortunately, often gets him out and that is what happened today as he advanced down the track.
Steven Finn batted well again - he really thinks he is a batsman now after making 56 in the first Test and looked devastated when he was out. Ultimately, 465 represented a decent total after being put in to bat.
However, England bowled too short at New Zealand, particularly Finn. The ball flying through may look good with a strong wind at his back and the slips and keeper stood a long way back, but he did not get the ball in the right places to get people out.
That was left to Stuart Broad, who settled into an excellent line and length as soon as he was introduced into the attack.
He bowled fuller than Finn and both his wickets - with successive balls - came from deliveries that were pitched up. He got Ross Taylor with a beauty that held its line to hit off-stump.
Broad's confidence is low - that can be seen in his batting - but he looked much more like his old self, and just needs to get among the wickets. His performance with the ball in the final session will give him a real kick.
The only disappointment was Monty Panesar, who did not look like getting a wicket. Whereas Martin spun it, fellow slow left-armer Panesar did not get a ball past the edge.
He bowled too quickly. He bowls at one pace and, if it is the right one, as it was in India, it works. If not, he does not have the nous to adjust his speed to get the most out of the pitch. It is a concern for England.
The fielders around the bat were encouraging Panesar almost exaggeratedly. I am sure on the third day England will be out there before a ball is bowled, getting him to slow down to find the right pace to get turn.
New Zealand look like a team that could roll over if England get them on the back foot. With Taylor and Rutherford, the centurion from Dunedin, out, England will fancy their chances of winning this game - and so do I.
They will have to work hard to get there - but they need a contribution from Panesar.