New Zealand v England: Stuart Broad back to his best

By Jonathan Agnew
BBC cricket correspondent
Last updated on .From the section Cricket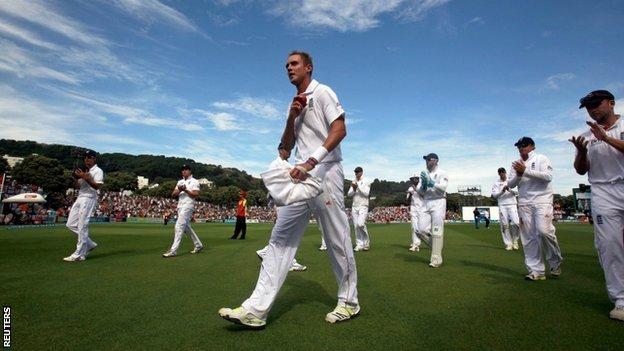 Stuart Broad's splendid bowling performance in the second Test against New Zealand has given England a good chance of forcing a win in Wellington.
England had no option but to ask the hosts to bat again after dismissing them for 254, 12 short of the follow-on mark.
Alastair Cook would have batted again had there not been an uncertain weather forecast for the next two days, because there is not enough wear on this pitch to make batting awkward.
Judging by the way New Zealand got stuck in the second innings - they closed on 77-1 thanks to Peter Fulton's unbeaten 41 - England will have to do it the hard way if they are to win this Test.
But they have given themselves the best possible chance thanks to Broad, who bowled beautifully for his 6-51. It was a classic display of pace bowling.
Having showed signs of better form during the drawn first Test in Dunedin, today he bowled a nice, full length with a hint of movement.
Broad lost confidence after a difficult winter with illness, a heel injury and losing his place in the Test side in India. He knew he had to turn it on here, and to take six wickets was a fine effort.
He seems to have found that 'nip' again, meaning batsmen are reluctant to come forward; he took wickets by forcing batsmen on to the back foot.
The wind also helped him get his rhythm back. He was fast at times and he looked back to his best.
Despite taking two wickets, Steven Finn bowled too short again. At this level, anybody who repeatedly bowls short outside off stump is going to be expensive.
Fellow pace bowler James Anderson did not look 100% fit: he had trouble with the footholds at one end and had physio work on his back later on.
Left-arm spinner Monty Panesar was very tidy but never looked like running through New Zealand.
Before play, the coaches were trying to get him to work at the pace which would be rewarding on this pitch. It is not a natural thing for him and he finds it difficult to adjust to different conditions.
When he did toss the ball up and bowl a touch slower, he got a wicket out of the rough thanks to a brilliant catch from Ian Bell at leg gully. That might have given Panesar the confidence to take one or two more, but it was not to be.
He might have benefited with more adventurous field placings, and there were other occasions when England captain Alastair Cook was a touch too defensive.
BJ Watling gave an early chance off Anderson to where third slip would have been, but instead England had a short extra-cover.
If they are trying to force the pace of this game, it would be nice to see more aggressive field settings because there are not going to be many chances on this pitch.
New Zealand have been disappointing, and their lower-order resistance was virtually non-existent.
Some of the swishing from the tail was not clever, when they should have grafted to eke out the 12 runs they needed to avoid the follow-on.
Fulton played much better in the second innings, and I like the way Kane Williamson - his partner in an unbroken second-wicket stand worth 52 - has batted under pressure.
New Zealand given themselves a chance, but they are up against it. What England have to worry about is the rain and the wind, which will strengthen over the next two days.
It looks like there will be interruptions on the fourth and fifth days, and the forecast is variable. However, cloudy skies may mean the ball moves around more.
Someone will have to do a lot of bowling into the wind, and that person may well be Panesar.